Maren Morris has been at the forefront of news headlines lately. This is because she uses her social media to voice her opinion. Most recently, this is the case of how she feels about the untimely death of Country music legend, Charley Pride from COVID-19.
Maren Morris posts an intriguing selfie on Instagram.
Recently, Maren Morris takes to Instagram to share selfie. In the picture, the "My Church" singer appears seated in front of a floor-length mirror in a bedroom. She pulls her long brown hair over one shoulder and her phone covers most of her face. She's wearing a white lace bralette and appears to have some sort of white shirt-like clothing item over it. Additionally, she's wearing what appears to be a medium acid wash pair of blue jeans.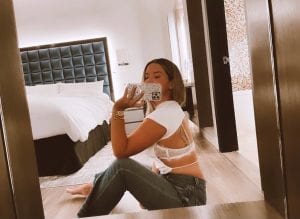 An update from the City of Angels.
While the reason for this selfie isn't clear, Morris captions the photo letting fans know she is in Los Angeles, California. She pens, "city of angels is a ghost town." Concerningly, this may be since COVID-19 cases are still on the rise in Southern California. According to the Los Angeles Times, the ICU capacity is falling.  Also, Deadline reports that ambulances wait four hours to offload patients.
CMA Organizers Deny Responsibility For Charley Pride's Death
Fans react to Morris' sultry Instagram selfie.
While it's easy to imagine celebrities getting trolled on social media, that doesn't appear to be the case with this post. Most of the comments speak to how attractive Maren Morris is and give compliments to her top. One fan even calls her a queen.
One hawkeyed fan inquires about the tattoo up the singer's back. At the time of this post, Morris hasn't responded. However, luckily for fans, stealherstyle.net reports on all four known tattoos on the Country songstress. According to this source, Morris' back tattoo reads, "It's a wondrous world of ridiculous things / but nothing so rare as the love that it brings." Additionally, a tweet from "The Bones" singer confirms the wording.
"It's a wondrous world of ridiculous things, but nothing so rare as the love that it brings." #mytattoo

— MAREN MORRIS (@MarenMorris) January 19, 2017
It seems that the quote comes from a Patty Griffin song called "Christina". However, the original lyrics have the second line starting beginning in "with" not "but." In a Tweet from 2013, it is apparent that Maren Morris adores Griffin as she describes seeing the folk singer-songwriter at the Ryman Auditorium in Nashville. She tweets, "Going to see Patty Griffin at the Ryman this evening. I may never come back down."
What are your thoughts on Maren Morris' selfie? How do you feel California is handling the ongoing coronavirus pandemic? Let us know in the comment section below. Come back to Country Music Alley for more news about your favorite Country stars.