LeAnn Rimes is no stranger to the moonlight – or the spotlight. The country crooner is coming up on the 25th anniversary of her Blue album debut. But before her song "Blue" took her to the top of the charts, she appeared on Star Search. 
Flashback: LeAnn Rimes, Star Search Contestant
LeAnn Rimes was just 14-years-old when she became the youngest person to win a Grammy Award. In fact, in 1997, she grabbed TWO Grammy Awards stemming from her Blue album. She nabbed Best Female Country Vocal Performance and Best New Artist. She was the first singer from the country genre to win Best New Artist. 
But she made her television singing debut several years before her breakout album. LeAnn Rimes was a contestant on Star Search in 1990. She was just eight-years-old. 
Star Search was a talent competition hosted by Ed McMahon. It ran from 1983 to 1995. On the show, two contestants would compete against each other in the same genre, such as dance, group vocal, teen singer, and young singer. 
In her 1990 episode, LeAnn Rimes competed against an 11-year-old named Levi Garrett. Taste of Country reports that she earned 3.75 stars for her rendition of the classic country song, "Don't Worry About Me." Her score was enough to put her over the top. She won to return the next week to compete against a new contestant.
While she didn't win on her second appearance, she joins a long list of aspiring stars who appeared on the popular show. Justin Timberlake, Brittany Spears, and Christina Aguilera, are just a few stars who appeared on Star Search before they were famous. 
2021 Marks 10th Wedding Anniversary
Unfortunately, until recently most people associate LeAnn Rimes with a scandalous affair. Back in 2009, Us Weekly broke the bombshell news of her affair with Eddie Cibrian.. complete with pictures. The crooner was starring alongside the actor in Lifetime's Northern Lights. Both were married to other people at the time. 
LeAnn Rimes and Eddie Cibrian both ended up divorcing their respective spouses and getting hitched in 2011. Eddie Cibrian's ex is The Real Housewives of Beverly Hills alum Brandi Glanville. 
Very few people – let alone Glanville – thought the marriage would last. However, the couple is coming up on their 10th wedding anniversary in 2021. She spoke to People magazine about their low-key anniversary plans. 
She said her dream celebration would be "amongst the trees" with Christmas lights and her family around. And she wouldn't say no to "a good bottle of wine," either. 
Eddie Cibrian is one of 2 people who knew the secret she's been carrying this year. 
Were Fans Right About LeAnn Rimes Being 'Sun' on The Masked Singer? (SPOILERS)
When The Masked Singer Season 4 began in September, fans immediately recognized the voice of 'Sun.' If you're not familiar with the show – celebrities from all types of genres sing while wearing masks to hide their identity. Week by week, a contestant is unmasked to reveal if the judges – and the audience – had guessed correctly. The celebrity who lasts until the end is declared the winner. 
The Season 4 finale aired on December 16. Along with the 'Sun,' 'Mushroom,' and 'Crocodile' made it to the finals. Since the season premiere in September, fans have continuously guessed that LeAnn Rimes was under the 'Sun' mask. Was she? 
SPOILERS
Fans got this one right. When the last mask came off, it was revealed that the 'Sun' was none other than the "Can't Fight The Moonlight" singer. 
The world really does revolve around you #SunMask, you warmed our hearts and good lord I saw the light! Congrats @leannrimes! #TheMaskedSinger pic.twitter.com/2KIoEsBdeD

— Robin Thicke (@robinthicke) December 17, 2020
She spoke to People magazine after her win. LeAnn said that no one in her family knew about her appearance on the show… except for Eddie Cibrian. Her friends and family constantly texted her during the season, saying they knew it was her. She jokingly replied that if they didn't know, "you're not really my family." 
Watch a clip of LeAnn Rimes' childhood appearance on Star Search. The singer released an album of meditation chants last month. Chant: The Human & The Holy is available on all streaming platforms.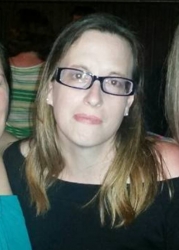 Latest posts by Jennifer Havener
(see all)