Carrie Underwood fans are hoping to get new music from the country star. But instead, she's been making holiday music. Back in September, she dropped her first-ever Christmas album, My Gift. The album debuted at No. 1 on the Billboard Country, Christian, and Holiday charts.
The holiday album is her eighth consecutive album to debut at the top of the Billboard Country chart. And now Carrie has a holiday special to accompany it. Carrie teased a behind-the-scenes look at "Hallelujah" with John Legend. Fans think she looks like an angel in the video.
Learn about the details of making "Hallelujah"
In the behind-the-scenes footage shared on Wednesday, December 16, Carrie Underwood revealed what it was like to film the Randee St. Nicholas-directed project. The "Drinking Alone" singer admits that it took a lot of work. Most of Los Angeles had to transform itself into a Winter Wonderland. Not an easy feat when it's 90 degrees outside.
"Today we are in Los Angeles, and they have made Christmas in LA, complete with snow," she said with a laugh. "It feels cold – it's not, but it looks like it should be."
Carrie also talks about her collaboration with John Legend. She said it was nice to "just kind of getting to sing the song together." The duo recorded their vocals in individual studios amid the pandemic. They finally got together to sing for the music video. The American Idol alum also shared that her team made sure everything was safe to film on set.
"Of course everybody is wearing masks just to make sure everybody feels safe and is taking the necessary precautions," she explained. "It's weird, but we're here and we're pushing through and doing it anyway. That's, to me, what 2020 has been – making stuff happen and figuring out how to do things you want to in a safe and different way."
However, it's unclear when "Hallelujah" was filmed. Every crew member in the behind-the-scenes video wore a face mask. John Legend and songwriter Toby Gad co-wrote "Hallelujah." You can watch both the music video and the behind-the-scenes video below.
Which song made Carrie Underwood cry?
Earlier this month, Carrie Underwood revealed she got "emotional" while recording her Christmas duet with her son Isaiah. As Country Music Alley previously reported, she loved singing with her son the most. The country singer and her son sang "Little Drummer Boy" together.
"It was so great," Carrie told People Magazine. "When we recorded, I was able to be in the booth with him and encourage him and try to remind him what words were coming up next, things like that."
There was also a point when Carrie got choked up. But it wasn't just sad tears. She was overcome with emotion after hearing Isaiah's part in the song. The Cry Pretty songstress didn't know how to react in the moment.
"I got to listen to his vocals [get] put together and then listening to myself with him," she said. "I was laughing, and I was crying, and it was just very overwhelming in a good way. It's just very emotional."
Carrie's Christmas music special is currently streaming on HBOX Max. It includes classic holiday songs and originals from her album. The singer told People that a holiday album was much-needed during the coronavirus pandemic. She hopes to continue to spread holiday cheer with her uplifting music.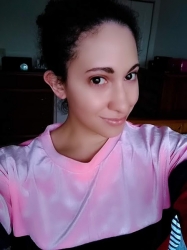 Latest posts by Chanel Adams
(see all)