Taylor Swift built her career on writing about love and loss. Over the years, her personal life quickly became her lyrical inspiration. As she says in her hit song "Blank Space," she has a long list of ex-lovers. Swift has become known for her songs like "We Are Never Ever Getting Back Together" and "Better Than Revenge."
Nowadays, that's not the case. The singer-songwriter has been dating British actor Joe Alwyn for four years. The pair has even worked on music together. Swift recently confirmed that Joe's pseudonym is William Bowery.
Joe is not only her muse, but he's also her co-writer. Ever since she dropped her new album, Evermore, fans wonder if "Coney Island" is an ode to all of her exes. In the meantime, here are some songs she wrote about her exes.
When Taylor Swift and Taylor Lautner were T Squared
The two met on the set of Valentine's Day. However, Taylor Swift and Taylor Lautner only dated for three months in 2009, although it felt like longer. The young couple was all over the headlines. Some say Swift wrote "Back to December" about their short-lived relationship.
Usually, the singer expects an apology from an ex. But she's the one apologizing in this song. From the Speak Now era, the ballad is supposedly directed at the Twilight star. He's one of the few exes who got a positive, but sad ballad from the songstress.
That moment she called out John Mayer
However, John Mayer didn't get away unscathed. Taylor Swift wrote about their very brief relationship with the musician and serial dater. She did not hold back on the track with lines like "Dear John, I see it all now it was wrong / Don't you think nineteen's too young / To be played by your dark, twisted games / When I loved you, so?"
While the two were spotted together in January 2010, nothing came out of it. Swift didn't mind the speculation at the time and hoped it would've become something more. Mayer went on to date Katy Perry, who inspired Swift's "Bad Blood," a track about frenemies.
Remember when Taylor Swift Jake Gyllenhaal dated?
The couple had a whirlwind romance that lasted around two months. Taylor Swift was infatuated with Jake Gyllenhaal. Then again, who wouldn't be? Unfortunately, he dumped her just before New Year's 2010. He became one of her best musical muses.
"All Too Well" is a fan-favorite off of Red. It's a track that Swift described as being too difficult to write. It's even harder for her to perform. It has relatable lyrics like, "I left my scarf there, at your sister's house / And you've still got in your drawer even now."
Harry Styles was also her musical muse
The former One Direction member was first spotted with Taylor Swift at the Central Park Zoo in 2012. Those photos immediately went viral and gave fans on both sides a heart attack. However, their relationship was short-lived. An argument during a holiday getaway led to the couple's split in 2013.
But that hasn't stopped Swift from writing about him. "Style" and most of 1989 was about inspired by the "Kiwi" singer. Swifties call the hit song one of Swift's best pop songs of all time.
Her subtle song about Calvin Harris
Taylor Swift met the Scottish DJ backstage at the 2018 Brit Awards. But they didn't make their relationship official until March 2015. The couple ended their relationship in June 2016, after 15 months of dating.
"I Forgot That You Existed" is the first track off Swift's 2019 album Lover. It's an ode to an ex-boyfriend. Some fans think she's singing about Kim Kardashian and Kanye West, while others think it's about her drama with Harris.
Because you can't forget about Hiddleswift
Taylor Swift was spotted kissing the Thor actor in June 2016 in Rhode Island. Their pairing took place just two weeks following her split from Harris. Three months later, Hiddleswift's whirlwind relationship came to an end. The best example of her tryst with Hiddleston was on this Reputation track.
On "Getaway Car," Swift drops references to the 2016 Met Gala. She attended the event without then-boyfriend Harris and was seen dancing with Hiddleston. She compared her "escape" with Hiddleston like a pair of criminals fleeing from a heist. Swift admitted that he was her "reason" for leaving Harris. But their relationship was "cursed" from the start, as it led to another breakup.
Which of Taylor Swift's breakup songs is your favorite? What do you think "Coney Island" is about? Sound off below in the comments section.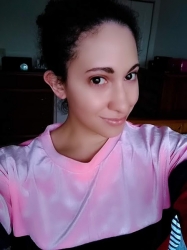 Latest posts by Chanel Adams
(see all)