There are several things Maren Morris fans admire about the rising Country artist. One of these qualities is that it seems like she doesn't take flack from anyone. This is apparent with how takes on heavy issues. For example, her song "Better Than We Found It," confronts tough topics like the events sparking the Black Lives Matter movement and the DACA (Deferred Action for Childhood Arrivals) Act. Additionally, Morris is one of several artists that voice their opinion about Country legend Charley Pride's untimely death related to COVID 19.
Maren Morris shares a new glam look with fans.
For the second day in a row, Maren Morris posts a sultry Instagram photo. Today's post includes two headshots of the brown-eyed beauty in full-glam makeup. Fittingly, she captions the pictures with "s p a r k l e g o t h."
Notably, "The Bones" singer gives credit where credit is due and tags her stylist, makeup artist, and hairdresser.  According to the tags, the Country star is styled by Dani Michelle. Astoundingly, the stylist's website is covered with beautiful images from the pages of Vogue. 
When it comes to the makeup artist responsible for Morris' "sparkle goth" look, prepared to be blown away.  Mary Phillips' Instagram page is the quintessential definition of starstudded. Morris' headshot joins those of Kim Kardashian, Kendall Jenner, Hailee Steinfeld, Chrissy Teigen, and Jennifer Lopez, to name a few.
It is no surprise that the hairstylist mentioned also has quite an impressive resume. According to her Instagram bio Laura Polko is is a hairstylist at Wall Group. Her Instagram features Hailee Steinfeld, Gigi Hadid, and Kim Kardashian.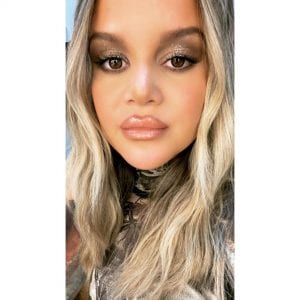 Maren claps back at troll.
While it seems that most of the comments on Maren Morris's "sparkle goth" post are positive. One of them really seems to hit a nerve with the "The Middle" singer. The troll writes, "Just follow Taylor into pop. You're totally not country with your music or your values. " Assumably, this is a reference to Country/Pop crossover phenomenon Taylor Swift.
With a feisty spirit, Morris rebuts with, "she seems like she's doing alright, you dildo."  And, she's not wrong given how wildly successful Swift's latest alum, Evermore is doing. Consequently, the original poster seems to ignore the fact that the singer responds to him and continues to stir the pot among Maren Morris fans that come to her aide. One fan writes, "where's your top 40 hit? I figured you must be a pro since you have so much 'advice' on the industry."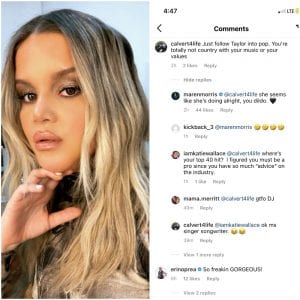 How do you feel about Maren Morris sticking up for herself? Is  "sparkle goth" a look you'd try to emulate for yourself? Let us know in the comment section below. Come back to Country Music Alley for more news about your favorite Country stars.