Carrie Underwood revealed her New Year's resolution. Like most of us, she's hoping that 2021 is better than 2020. Despite the pandemic, the country superstar still had a busy promotional schedule. She just released her first-ever Christmas album, My Gift.
"Hallelujah" singer shares her New Year's resolutions
For the songstress, it's simple. While the American Idol alum spent plenty of time with her family, she would like to focus more on herself. In a new interview with Taste of Country Nights, she said that she would like to practice more self-care in the new year. It's a message that most people can relate to.
"I do make New Year's Resolutions," Carrie Underwood admitted. "A lot of times they're things like, 'I wanna have a little more me-time. Take better care of yourself.' To breathe and be peaceful, things, like that."
"I feel like probably a New Year's resolution from last year would've been something like spending more time with my family," she continued. "And then I kinda got that this year."
Of course, Carrie has more hopes for the new year. She would love to start touring again. It would feel good for her to perform her music in front of millions of adoring fans. That's something that Carrie was missing in 2020. The coronavirus pandemic ended live shows in March.
"I think this year's all taught us to be grateful for what we have," Carrie said. "I definitely would like to work more next year, as far as getting out and seeing people. But I'm not in control of that, so we'll do the best we can. Keep moving forward with the circumstances we are given."
Hopefully, Carrie will be able to tour again. For now, fans have the My Gift Christmas album and HBO Max Special to hold them over. The singer has been showing off her vocals on classic songs like "Sweet Baby Jesus" and "Let There Be Peace." She also collaborated with John Legend on their duet "Hallelujah."
Carrie Underwood and John Legend perform at Global Citizen
This will also come as a treat for fans. Carrie Underwood and John Legend's emotional performance of "Hallelujah" could be just what their fans need to get through the 2020 holiday season. The singers performed their new moving duet at the Global Citizen Prize 2020, which aired on Saturday night, December 19 on NBC.
Like most televised events, the award show had to be filmed differently due to the COVID-19 outbreak. Even though they stood far apart, Carrie and John's performance was in sync. They were no never out of step, not once. The duo sang against a festive backdrop with John at the piano and Carrie standing at her microphone. Fake snow, gold Christmas trees, and snowflakes finished off the scene.
"Hallelujah" is on Carrie's new Christmas album, My Gift. The singers debuted the music video for the song last month, which also has a holiday feel to it. What are your thoughts on Carrie and John's performance? Sound off below.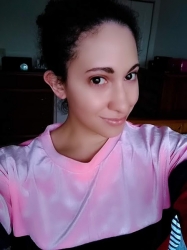 Latest posts by Chanel Adams
(see all)