Taylor Swift fans are jealous of this TikTok user. She just so happens to live in the singer's childhood home. Hit songs like "Love Story" were rumored to be written there. Sydney Render and her family resided in the house since 2013. Last week, she posted a TikTok video that immediately went viral.
It also has to do with the power of Swifties. Sydney's TikTok video was a response to a trend where users from Berks County, Pennsylvania share their connection to Taylor Swift. She ended up winning the internet with her reveal. She gave the internet a tour of the home that the "Willow" singer grew up in.
Sydney Render lives in Taylor Swift's childhood home
In the video, Sydney walked nonchalantly through the house. She acted casual about it as if Taylor Swift never frequented those same walls. Sydney walked to the front yard to reveal the exterior of the home. Then, she made the revelation: "I live in her childhood home."
Per House Beautiful, the Colonial Revival-style home was built in 1929. It features 5 bedrooms, 3.5 bathrooms, and sits on .75 acres. The house is also rumored to spark inspiration for Taylor's popular songs like "The Best Day," "Teardrops On My Guitar," and "Love Story." However, it's unclear if Taylor really wrote those songs in that very home.
In an interview with House Beautiful, Sydney exclaimed: "There is no way of proving any of this because it's never been confirmed, but it's fun to think about!"
Fans love flocking to the "Cardigan" singer's homes
The magazine asked Sydney if Taylor left any remnants of her childhood behind.
"In the cement outside, there is an imprint that says 'TAS,'" Sydney responded.
Taylor's initials are Taylor Alison Swift. It seems like the singer-songwriter left those initials herself. But the house has gone several changes in the past seven years. It used to have a beige exterior, which is now white. Sydney also believes that the house was painted white when Taylor lived there.
Of course, her fans stop by to snap selfies in front of the home. There are certain times of the year when they show up. This week will definitely attract the Swifties.
"We get a lot of fans taking pictures outside the house," Sydney said. "I feel like there tends to be more around the holidays when people are traveling from other states and want to see it. If Taylor Swift has a concert in Philadelphia or somewhere close, there are more fans around that time."
Taylor loves learning the history behind some of the homes she bought. The folklore track, "The Last Great American Dynasty," tells the story of the former owners of her Rhode Island home. The song is based on the lives of Rebekah West Harkness and her husband William Hale "Bill" Harkness, whose family founded Standard Oil.
Taylor purchased the Watch Hill, Rhode Island home for $17.75 million in 2014. And she has thrown numerous Fourth of July parties there. Swifties love visiting "Holiday House" in the summer. So, it's not shocking that Taylor's old home is creating history as well.
Taylor Swift re-recorded "Love Story"
The superstar is currently re-recording all of her old music. Taylor Swift gave fans a sneak peek at an updated version of her 2008 song "Love Story" in a new advertisement for Match.com. She wrote the song on her second album Fearless. It landed number one on the country Billboard charts and the Mainstream Top 40 and Adult Contemporary charts.
Also, Taylor won Music Video of the Year at the CMT and CMA awards with her Shakespearian-inspired video. Now, fans enjoyed the new version from the snipped used in the online dating commercial. In the ad, Satan falls in love with a girl named "2020" and they go on adventures together. Swifties also noticed something interesting about the lyrics.
Okay so while my new re-records are NOT done, my friend @VancityReynolds asked me if he could use a snippet of one for a LOLsome commercial he wrote so…here's a sneak peak of Love Story! Working hard to get the music to you soon!! https://t.co/0vBFXxaRXR

— Taylor Swift (@taylorswift13) December 2, 2020
Instead of singing, "It's a love story, baby, just say, 'Yes,'" Taylor changed it to, "It's a love story, baby, just said, 'Yes.'"
Fans think it's a hint at an engagement with her longtime boyfriend, Joe Alwyn. But Taylor and Joe are quiet about their relationship. She only confirmed his pseudonym Willliam Bowery on her new albums, folklore, and evermore. In a recent interview with Good Morning America, Taylor explained that she's been re-recording her country music while in quarantine.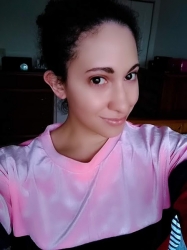 Latest posts by Chanel Adams
(see all)