Taylor Swift grew up on a Christmas tree farm. So, it would make sense that she would have a holiday song of the same name. Country Music Alley previously reported about Swift's childhood home. She lived on an 11-acre Christmas tree farm in Reading, Pennsylvania.
However, her family sold the farm when they moved to Tennessee. But it's still an important part of her childhood. It brought a lot of nostalgia to the singer, especially around the holiday season. In 2019, she released a wholesome music video with her holiday song that contained old home videos showing the Swift family on the Pennsylvania farm.
Betcha didn't know that Swift has other Christmas songs.
Singer gets into the Christmas spirit with "Tis The Damn Season"
Taylor Swift unveiled the new Instagram filter for her track, "Tis The Damn Season." Fans assumed it was the next single off her new album, Evermore. However, the song would've been released before the holidays. Swift debuted the accompanying filter on her Instagram Story, explaining how fans can use it.
"First things first, we have this very cute filter that puts a tag on you and makes it snow around you," Swift said. "All of which are very important factors of the damn season for 'Tis The Damn Season filter."
📹 IG | Taylor Swift via Instagram story introducing a new 'tis the damn season' filter and announcing that physical copies of #evermorealbum are now in @Target and other retailers which have the 2 bonus tracks! pic.twitter.com/x8yVX1b0a7

— Taylor Swift News (@TSwiftNZ) December 20, 2020
The Instagram filter features a "snow-globe" effect and a gift tag with the song's title on it. For the clip, Swift wore a red button-up sweater and wore her hair styled in soft waves. She also showcased her signature winged liner and lipstick.
Taylor Swift has a collection of holiday hits
Some fans don't think "Tis The Damn Season" is festive enough. If you feel this way, you can check out The Taylor Swift Holiday Collection. The country singer released the EP in 2008. It includes covers of classic holiday tunes such as "Last Christmas" and "Silent Night."
The cover art for the album is a festive take on Swift's music video for "Teardrops on My Guitar." At the time, it was available as a limited release at Target Stores in the United States and online. Not only does it contain covers of classic Christmas songs, but it also has two original tracks written by Swift, "Christmases When You Were Mine" and "Christmas Must Be Something More," both of which have a country-pop sound.
What about "Christmas Tree Farm"?
Taylor Swift previously announced that she's re-recording her old music. The singer is in an ongoing feud with Scooter Braun over her rights to her masters. It could be the reason why she released "Christmas Tree Farm" in 2019. This could mean that Swift may also re-record her Christmas album.
At the time, Swift said she wrote the song within six days. Living on an actual Christmas tree farm meant so much to her that she had to write a song about it.
"I actually did grow up on a Christmas tree farm," Swift tweeted in December 2019. "In a gingerbread house, deep within the yummy gummy gumdrop forest. Where, funnily enough, this song is their national anthem."
I actually did grow up on a Christmas tree farm. In a gingerbread house, deep within the yummy gummy gumdrop forest. Where, funnily enough, this song is their national anthem. #ChristmasTreeFarm song and video out now 🎄https://t.co/p9Hk8blYpS pic.twitter.com/rTdGd1wIhK

— Taylor Swift (@taylorswift13) December 6, 2019
The "Willow" singer told Elle Taiwan that growing up on the farm made Christmas her favorite holiday.
"Christmas is my most anticipated holiday. When Christmas is over, I'll start the countdown to see how long it is before the next Christmas," Swift said. "In September, I'll begin to celebrate Christmas by buying gifts for my friends, decorating the house, like if Christmas has come early. I am fascinated by this holiday, I grew up on a Christmas tree farm, so I like the spirit."
Hopefully, Swift will release more holiday songs in the future. It's obviously a place that brings her a lot of joy. What's your favorite Christmas song from the singer? Sound off below.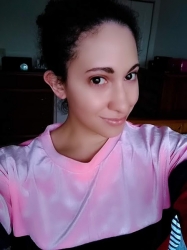 Latest posts by Chanel Adams
(see all)