Carrie Underwood gets into the holiday spirit with a little sparkle and shine. This comes after the country superstar shared her idea of the perfect Christmas. Earlier this month, the American Idol winner received a bizarre gift from her husband. She got two cows, which made fans wonder if that's what she really wanted for Christmas.
They know men aren't good at picking out gifts for their wives. Most of them wait until Christmas Eve, when they choose the most basic gifts. They look confused as they scramble around the store and try to find a last-minute gift. But the country singer was happy to receive her early Christmas present from her husband, Mike Fisher.
However, there is one thing that jingles her bells…
What was temporarily underneath her Christmas tree?
Cows isn't just all that Carrie Underwood is getting for Christmas. The singer has been very good this year. Celebrity jewelry designer Kyle Chan decked out the "Hallelujah" singer in $250,000 worth of jewels for most of her holiday appearances, per Page Six. But the diamond pieces were only a loan.
The mom of two wore his emerald chandelier earrings, which are worth $65,000 for her performance on Late Night with Seth Meyers. She also wore his $15,000 half-eternity diamond spike earrings in black gold for her latest appearance on The Kelly Clarkson Show. Then, she sported his $15,000 half-eternity diamond spike earrings for her performance during the iHeartRadio special.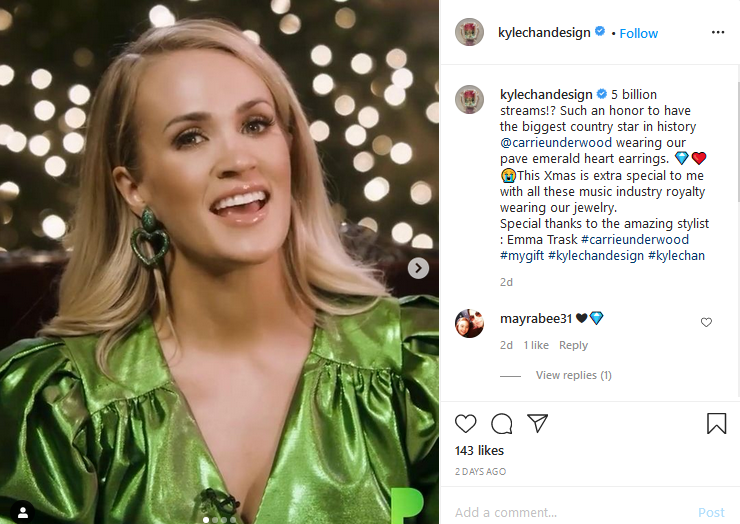 But that's not all. Carrie also wore the designer's heart-shaped pave emerald earrings in black gold for her Pandora Live concert on Tuesday, December 8. Over 5 billion live-streamers saw the singer perform in the $20,800 jewels. The 44-year-old also designed jewelry Mariah Carey for her appearance on The Tonight Show Starring Jimmy Fallon.
Carrie showed some of her dazzling holiday looks on Instagram. On Wednesday, December 24, she reacted to some of her gowns from the My Gift Christmas special. Most of the looks show her wearing sparkling diamond jewelry. However, it's unclear whether Carrie was loaned the jewelry for the special.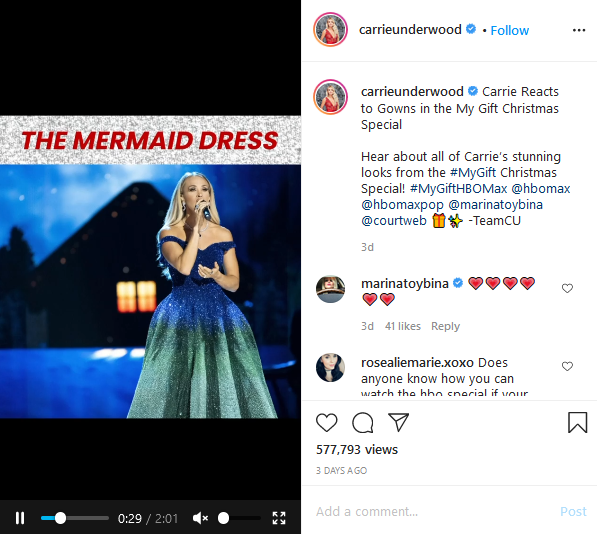 Carrie Underwood shares her New Year's Eve plans
The "Before He Cheats" singer said her New Year's Eve will be a quiet one. Carrie Underwood and her family celebrated the holiday in numerous ways. They don't stick to just one tradition. Most of the time, New Year's Eve is often a working holiday for the country superstar.
"I wouldn't say we really have any traditions," Carrie told Taste of Country. "We've done everything from going out to dinner to playing in Times Square. So guess [we have] no real traditions other than hanging out, and that will probably be what we do this year."
Since the COVID-19 pandemic prevented gatherings, Carrie is looking forward to a quiet night to ring in 2021.
"Obviously we're not going anywhere," she continued. "But I'll be with my husband, and maybe [our 5-year-old son] Isaiah will try to make it 'til midnight. I don't know, we'll see."
Of course, there's one New Year's Eve tradition Carrie loves and that's watching the ball drop on TV. But most of the New Year's Eve specials will continue, with social distancing and no crowds in Time Square. Carrie remarked that she's looking forward to kissing 2020 goodbye. She admits that she wants a "fresh start" and "having that hope the next year is gonna be a little better."
While Carrie loves to go glam for Christmas, she keeps it basic for New Year's Eve. Which of her looks are your favorite? Sound off below.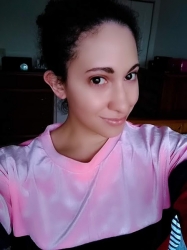 Latest posts by Chanel Adams
(see all)