Dolly Parton really loves Christmas. The country superstar goes all out for the holiday season. Of course, this should come as no surprise to her fans. Dolly released a new Christmas album, A Holly Dolly Christmas, in the fall. The record features Christmas classics and original songs.
On the album, Dolly collaborates with Michael Buble, Miley Cyrus, and Willie Nelson. She also wanted to spread the holiday cheer in 2020 with her Netflix Christmas movie, Christmas on the Square. Also, she released a CBS special with performances from her Christmas album. Country Music Alley previously reported that Dolly penned a letter to Santa, wishing for peace and unity.
Now, the legend is sharing some of her holiday decorating secrets.
Dolly Parton owns a lot of Christmas trees
During her appearance on The Ellen Show, Dolly Parton admitted that she owns a Christmas tree in every room of her house. No joke. The singer really loves Christmastime. And she wants to make her home sparkle. It makes sense since this holiday can put people in a good mood.
"Do you do a big decoration of your house?" the talk show asked.
"I have a lot of rooms in my house, and I have a Christmas tree in every one of them," Dolly said. "They're all in different sizes."
She added that each of her houses is decorated in a different theme.
"I have different houses. I have a lake house and we decorate it with the theme of that, with water. Christmas is all about the kids."
Her affinity for Christmas decorations and other holiday décor came during a promotional appearance for Jennifer Aniston's Netflix film Dumplin' and the anthology series Dolly Parton's Heartstrings. You can check out her chat with Ellen DeGeneres in the video below.
When she plans to take her decorations down
Dolly Parton insists on keeping her Christmas decorations up until January 19. She made the statement on a November 30 episode of Cody Alan's Cody Cast podcast. The singer-songwriter revealed that she leaves her Christmas decorations up more than three weeks after the holiday. Also, she likes to put them up as soon as turkey day is over.
"I put up my Christmas decorations the day after Christmas," she explained. "I celebrate Christmas and Thanksgiving until my birthday on the 19th of January. I always make them leave my decorations up 'till after my birthday, 'cause I am celebrating."
As for what Dolly and her family eat on Christmas Day, they're all about "the traditional stuff, like everybody else." That means either turkey, chicken, or ham is on the table. Then, there are side dishes filled with mashed potatoes, stuffing, pumpkin pie, and sweet potato pie.
The singer loves to eat chicken and dumplings, which she makes "every year." Dolly's family loves it as much as she does. Since her mom used to make it, she wants to continue that tradition. While she always gets into the holiday spirit, she did double-duty with her Christmas album and special.
What do you think of Dolly's holiday decorating secrets? Sound off below.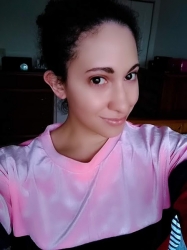 Latest posts by Chanel Adams
(see all)