Rumors about a Taylor Swift leaked photo is circulating. The "Willow" singer was the latest victim of a fake news story that started with an edited photo posted on Twitter. The photo has since popped up on message boards and went viral. Swifties are in an uproar over this latest hoax.
As for Taylor, she has kept quiet about the viral photo. She last tweeted on December 16 about her new single. Rumors claimed that she intended on using this leaked photo to promote her new song "Willow." On Friday, December 25, a rumored intimate photo went viral which featured the songstress with her boyfriend Joe Alwyn.
Taylor Swift leaked photo turns out to be fake
A fake photo and accompanying tweet quickly made the rounds on Twitter. It included an alleged photo of Taylor Swift and Joe Alwyn. The user claimed that the photo was leaked online. The photo went viral after the singer's phone allegedly got hacked. Of course, her fans went into a frenzy over the leak.
The photo in question is a mirror selfie. In the photo, Taylor wears a pink wig while Joe is shirtless and shaving his face. She snaps the photo as she rocks a light blue bra and jeans. Meanwhile, Joe's gray sweatpants are pulled down to show his underwear. On the photo, the hacker included its email address.
The hacker claims that Taylor used this image to promote her new single. The original tweet read: "Some of you seem alright. Don't go to Nashville on Christmas." The photo and accompanying message is not real and did not come from Taylor herself. As soon as the photo circulated online, Taylor's fans came to her defense.
Taylor swift leaked photo joe alwyn mirror pic.twitter.com/bNwrIwsyiq

— Juan Luján (@JuanLujan078) December 24, 2020
the ppl flooding "taylor swift pink wig leaked" with stephanie from lazytwon r doing gods work pic.twitter.com/HLH0SMLKXl

— s (@meredithsghost) December 25, 2020
They asked people to remove the photo as it is private. Some even started sharing other fake photos of the singer. One fan wrote: "Taylor Swift pink hair," along with a photo of a different couple.
Another joked: "Taylor Swift pink wig. Taylor Swift leaked. Taylor leak. Taylor pink wig Joe Alwyn leaked," with a photo of a little girl in a pink wig.
However, none of these photos are of Taylor. One might think this photo is real. Per Hit C, it's fake. In the past, celebrities have become a victim of having their intimate photos leak online. Taylor and Joe keep their relationship private, so it's likely that someone wanted to cause controversy.
Previous rumors swirled about the famous singer
Country Music Alley previously reported the rumor about Taylor Swift's alleged domestic violence situation. This comes after an interview she did on Jimmy Kimmel Live. In the clip, she made a sign with her hands, which some thought was a call for help. Like the leaked photo, the clip immediately went viral.
Fans asked other Twitter users to take down the clip. Taylor always has the rumor mill talking. She achieved fame for writing songs about love and breakups. She likes to keep her relationships to herself until a new song comes out.
What are your thoughts? Do you think people want to know too much about Taylor Swift and Joe Alwyn? Sound off below.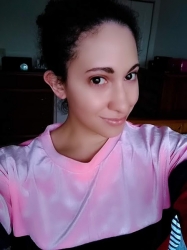 Latest posts by Chanel Adams
(see all)