Taylor Swift wore a bizarre costume to say goodbye to a "weird" year. Last year, the singer spent the holidays with some of her famous friends, including Anto Porowski, Gigi Hadid, and Miranda Hunt. But this year has been a different one for the singer. She's been in quarantine with her boyfriend, Joe Alwyn.
Swift even dropped two surprise albums. The 31-year-old celebrated New Year's Eve by wearing an unconventional costume. But some people think it has a hidden meaning. The singer is never one to do something without having a hidden meaning. For New Year's Eve, Swift donned a bear costume.
Taylor Swift says goodbye to "weird" 2020
On Thursday, December 31, the "Willow" singer took to Twitter to post a new photo. Taylor Swift wore a bear costume. She tweeted: "bye 2020, it's been weird." She accompanied her tweet with a photo of herself wearing a jacket, which had a hood that featured the animal's head with fangs. Swifties reacted to the clever post. Some of them declared it a "big mood."
"Thanks for making 2020 bearable," one fan joked.
Another user quoted the Evermore track "long story short," writing that "long story short, it was a bad time," about 2020.
bye 2020, it's been weird. pic.twitter.com/vQoZVSamkB

— Taylor Swift (@taylorswift13) December 31, 2020
Despite the "weird" year, the singer-songwriter has a lot to celebrate, as per People. In November, Swift shared a photo of her six new Grammy Award nominations. "Ask us how our days been," she wrote in a previous tweet. In the photo, Swift had a Zoom meeting with her Evermore collaborators.
ask us how our days been pic.twitter.com/zQDydAyCtE

— Taylor Swift (@taylorswift13) November 25, 2020
Her eighth studio album, Folklore, is nominated for both album of the year and best pop vocal album. Also, her single "Cardigan" is nominated for song of the year and best pop solo performance. In December, she released Folklore's "sister album," Evermore.
Does her costume have a hidden message?
Taylor Swift may be dropping some major Easter eggs in her tweet. While her tweet didn't leave any hints about the costume's meaning, the bear suit could be a nod to her Folklore track "Mad Woman," in which she sings, "you'll poke that bear 'til her claws come out." In an interview with Entertainment Weekly, Swift confirmed that the song was about her dispute with music executive Scooter Braun over the control of her master recordings.
She admitted that it felt "f***ing fantastic" to drop the F-word on the song. She explained that Braun tried to "silence" her. Maybe Swift is using the bear costume to reveal that she's letting her voice become heard in 2021. She previously announced that she's in the process of re-recording her old music.
Some Swifties think she's re-recording her 2012 album, Red. Some Twitter users noticed the similarities between her bear jacket and a 2012 photo where she wore a jacket with bear ears. Swift has been full of surprises lately. If the bear costume has a hidden meaning, it means that 2021 is another interesting year for the singer.
What are your thoughts? Do you think Taylor's bear costume has a hidden meaning? Sound off below in the comments.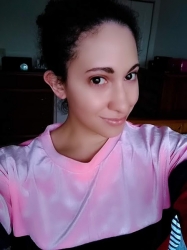 Latest posts by Chanel Adams
(see all)