Carrie Underwood made headlines in 2020 for her first-ever Christmas album, My Gift. The "Hallelujah" singer even premiered an accompanying Christmas special on HBO Max. The album features collaborations with John Legend and her son, Isaiah. But nearly a decade ago, Carrie was making country music and released the single "Mama's Song."
She co-wrote the track alongside former American Idol judge Kara DioGuardi, Marti Frederiksen, and Luke Laird. "Mama's Song" dropped in November 2010 and was the fourth and final single from her third album, Play On. Carrie performed the song at the 44th CMA Awards. The music video featured her real-life mom and husband.
Her mom made an appearance in "Mama's Song"
Carrie Underwood was known for singing about love. So, it made sense that she featured her real-life husband Mike Fisher. It also included an appearance by her mother, Carole Underwood. They filmed the music video in Nashville. The Shaun Silva directed video tells the story of a woman who meets the love of her life and moves away from her mom.
After meeting her love, Carrie makes the difficult decision of saying goodbye to the mom who raised her. The video is also set at the wedding reception of Carrie and Mike. The country singer looks absolutely stunning on her wedding day. Then, Carrie and her husband go en route to their honeymoon.
Meanwhile, her mother looks through a scrapbook filled with memories of them. The final picture in the album is a photo of Carrie and her mother at the wedding. Carrie and Carole hug before her mom sends her daughter off to spend the rest of her life with her true love. You can revisit the heart-breaking video and watch it below.
Carrie Underwood is making new music
Country Music Alley previously reported that Carrie Underwood is releasing a new album. The "Before He Cheats" singer announced that she's working on her first-ever gospel album titled My Savior. Carrie was so inspired by the Christmas album she worked on that she wanted to record more inspiring music. However, there are little details about the new project she's working on.
Carrie also teased a new project with Reba McEntire. In her latest Instagram post, she confirmed that they both worked together with Loretta Lynn. The duet will be on Loretta's new album, Still Woman Enough, which drops on March 19. In the caption, Carrie teased: "I'm so honored to be a part of the new album from the one-and-only [Loretta Lynn] #StillWomanEnough [Reba McEntire]."
Fans are looking forward to this collaboration. They have a feeling that it's going to be an "iconic" duet. One joked that Carrie is "singlehandedly making 2021 better." The singer wants to be a bright spot in her fans' lives, even if she can't tour and interact with them right now.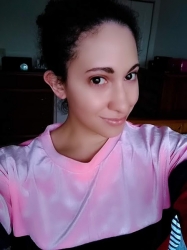 Latest posts by Chanel Adams
(see all)