Dolly Parton has got you covered for the spring cleaning season. It's time to clean out the old and bring in the new. The legend premiered her new homeware line with Hobby Line. And fans are already raving about it on Twitter. Dolly partnered with the retailer to launch her new homeware collection.
What you need to know
On Friday, January 1, the "Jolene" singer launched an exclusive collection at Hobby Lobby. It's available at select retail stores and online. Fans learned about the new collection on social media. Whether you're a fan of the singer or you're looking to revamp your home for the spring, it's out just in the nick of time.
The Dolly Parton News Twitter account wrote: "Dolly's complete homeware line is beginning to appear in Hobby Lobby stores as part of the spring collection. [Thanks to @chrisclinard for the photo!]."
The photo shows water bottles, a dish set, glass mugs, bowls, and more. As you can see, the store shelves are empty. If you take a look at the Hobby Lobby site, there's more Dolly Parton merchandise to be found. However, most of the items are sold out on there as well.
Prices are reasonable and range from $10 for a glass water bottle to $18.00 for a tea kettle. There are also other unique items such as a guitar-shaped chip and dip platter, flower bloom chip and dip bowls, green plaid bowls, and a floral print edge bowl. Of course, Dolly's personality is reflected in this collection. More items should be added as weeks go on.
Dolly's complete homeware line is beginning to appear in Hobby Lobby stores as a part of the spring collection.
[Thanks to @chrisclinard for the photo!] pic.twitter.com/PdAJjI1EQl

— Dolly Parton News (@PartonNews) January 2, 2021
Dolly Parton also partnered with Williams Sonoma
This news come after Dolly Parton partnered with Williams Sonoma. In October 2020, she premiered a line of holiday-themed home goods. Dolly celebrated the holidays early with new music and an accompanying Christmas special. She also released a line of home goods from Williams Sonoma that featured a gingerbread log cabin that resembles her childhood home.
Most of the items stem from Dolly's childhood. The Dolly Parton for Williams Sonoma collection included baking mixes, cookie kits, and linens. Also included are aprons for both kids and adults, along with oven mitt sets. For those who don't feel festive, they can opt for a Dolly Parton Guitar Cookie.
The Holly Dolly line was available at select Williams Sonoma stores or on their website But since the holidays passed, most of the items have sold out. The only items available on the Williams Sonoma site are the Dolly Parton Guitar Cookie and the Dolly Parton Oven Mitt & Potholder.
Last month, Dolly admitted that she leaves her Christmas decorations up until January 19. During her interview on the Cody Cast with Cody Alan podcast, the singer-songwriter said she never hurries to take down her Christmas tree. She purposely leaves up her decorations well into January to help celebrate her birthday, which falls on January 19.
Make sure you check out Dolly's new merchandise at Hobby Lobby.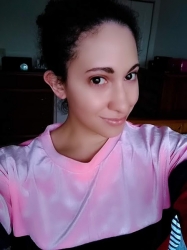 Latest posts by Chanel Adams
(see all)