Kelly Clarkson admitted that she doesn't want her son Remington to grow up. However, he's only four-years-old. So, he's got plenty of years to go. And fans feel the singer should enjoy this time with her son before it's too late.
But she's already thinking about her son dating someday. Kelly also got candid on her feelings about it during a recent interview on a talk show with Mary Steenburgen. She may have hinted that she doesn't want her son to date anyone else. The "Because of You" joked that she wants to be the only woman in his life.
Kelly Clarkson feelings on her son dating are relatable
In the new interview, Kelly Clarkson made it clear that she wants to be the only woman in her son's life. She's afraid to let him go one day. The Voice coach told Mary Steenburgen that she doesn't like the idea of her son marrying, let alone dating someone she wouldn't approve of.
It all started when Mary spoke to Kelly about her son Charlie McDowell's recent engagement with Lily Collins. She called Lily "a spectacular human being." That's when Kelly shared her own feelings as a mom.
"That's amazing, 'cause I'm a mama, so I'm just saying,'" Kelly said.
She revealed that she wants her son to find "a good woman" to marry.
"I'm like, 'Look, either be gay so I can be the only woman or choose someone spectacular,'" the American Idol Season 1 winner joked.
"Because it's your baby boy," Kelly continued. "So that's awesome that you found someone you love for him."
Kelly shares two children with her estranged husband Brandon Blackstock – Remington, 4, and River Rose, 6. The couple filed for divorce in 2020. Amid their messy fight, Kelly won primary physical custody of both children.
American Idol alum doesn't want her children on talent shows
Kelly Clarkson made her start on American Idol. And now she's a coach on NBC's The Voice. But she doesn't want the same journey for her children. She often worries that they could end up on talent shows as she did.
"I seriously hope they're tone-deaf," Kelly said. "I'd be like, 'Yeah, I've heard better but it was solid.' And I don't want to be like that."
This comes after Kelly revealed that her family is in therapy amid her divorce from Brandon Blackstock. Both Remington and River Rose has been talking with child psychologists and therapists to help them deal with their parents' split. They have also leaned on their family and friends during this difficult time. Her entire family is learning how to navigate divorce.
Kelly also found that coloring with her kids is "therapeutic." On her talk show, the Grammy-winner suggested that adult coloring books can be soothing. She admitted that it helped her with her difficult year. During the segment, the singer also gave advice on how to handle awkward conversations about politics and religion with loved ones during the holiday season.
You can always catch Kelly Clarkson on her own talk show The Kelly Clarkson Show on NBC.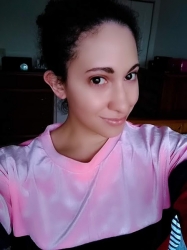 Latest posts by Chanel Adams
(see all)