Carrie Underwood made a virtual appearance on The Drew Barrymore Show. On Tuesday, January 12, the country singer was a guest on the daytime show to talk to Drew Barrymore about her current projects. During the interview, she surprised a young fan who is trying to raise money for frontline workers.
She then joined Barrymore and 7-year-old Hayley Orlinsky in a video chat. Underwood had a surprise up her sleeve for the young lady. Orlinsky started making bracelets in 2020 to help raise money for healthcare workers amid the coronavirus pandemic. When she heard that most healthcare workers don't have access to personal protective equipment, she sold her bracelets to raise money to help them.
Underwood was touched by Orlinsky's story and wanted to help as well.
Carrie Underwood reveals her surprise for young fan
Orlinsky had a goal of $200, but she has since raised over $27,000 and counting. Drew Barrymore joined Orlinsky and her mother, Lori, via Zoom to discuss their project. During their conversation, Barrymore revealed that Carrie Underwood is "loving what you're doing." Orlinsky's mom then shared that her favorite song is "Before He Cheats." Then Underwood joined the conversation and unveiled her surprise for the little girl.
"Hi, Hayley!" Underwood said. "I wish so much that I could be looking at you face-to-face, in-person right now. You're adorable!"
"You're a perfect example – it doesn't matter how old you are, where you are, whatever it is that you're into," she continued. "You took your love of making bracelets and you used it to make the world a better place, so yay, Hayley!"
The astonished little girl buried her face in her hands in shock. She couldn't believe that she was talking to the American Idol alum. Barrymore then announced that she was donating $5,000 to the cause. Underwood also said that she would contribute $5,000. Both donations will benefit a local children's hospital in Chicago.
"Oh my gosh! That's gonna help the hospital, and it's gonna help with vaccinations, and we are so thankful. Wow!" Orlinsky's mom said.
Underwood is trying to raise spirits during the pandemic. She's appeared in several at-home appearances to promote her new music. The Country singer released her first-ever Christmas album, My Gift, in September 2020. On Christmas Day, Underwood announced her first-ever gospel album, My Savior.
The "Jesus Take the Wheel" singer wants to spread positivity after a "tough year"
Carrie Underwood has shared some details about her new gospel album. The 37-year-old has been secretly working on a "companion" to her Christmas album that's "full of gospel hymns that I grew up singing." In an interview with People, Underwood says she hopes the album will give fans some positivity amid the coronavirus pandemic.
"Last year was a tough year for everybody, and I think just wanting to be positive in this world and sing these songs that bring me so much joy, hopefully, others can be like that as well and these songs can bring others joy," Underwood told the outlet. "That goes back with everything I do … I just want to do positive things."
The gospel album and Christmas album were on her bucket list. Underwood didn't want those good feelings to come to an end after the holiday season. She had no idea that it would lead her to make a gospel album. My Savior will drop sometime around Easter.
What do you think about Carrie Underwood's good deed? Let us know in the comment section below. Come back to Country Music Alley for more news about your favorite Country stars.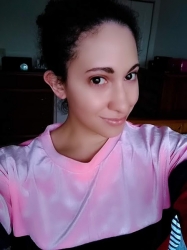 Latest posts by Chanel Adams
(see all)