Country star, Chris Lane, and his beautiful wife, The Bachelor alum, Lauren Bushnell are continuously making headlines. It seems that the couple continually gains popularity. This is most likely due to their whirlwind romance,  their recent wedding, and their pregnancy announcement.
Chris Lane and Lauren Bushnell go someplace tropical.
While many Nashvillians recently enjoyed some snow, that doesn't seem to be the case for Chris Lane and Lauren Bushnell. From the looks of their Instagram pages, the duo escapes a cold, Tennessee winter to enjoy some time together someplace tropical. According to Country Now, the pair are vacationing in St. John in the U.S Virgin Islands.
Lauren captions a recent set of Instagram photos with, "Honeymoon/Babymoon all rolled up into one."  The happy couple got married on October 25, 2019. Excitingly, the couple shares with fans that they are expecting a baby boy in 2021.
Luckily for fans, Lauren Bushnell isn't the only one that shares their vacation photos. The "Big, Big Plans," singer shares a heartwarming photo of him and his wife getting cozy on a boat. One fan is quick to point out the similarities of the photo to Lane's most recent No. 1 song, "Big, Big Plans." The fan quotes lyrics, "Find a little island where we go to get tan. I bet we take our kids down there one day." Seems like the couple is living a real-life fairy tale.
The "All About You" singer's wife gets COVID shamed in Instagram comments.
It's no surprise that traveling during an ongoing global pandemic is sure to rile some people up.  While most of the comments on Lauren Bushnell's posts are positive, it only took one commenter to stir the pot. The comment reads, "why are you guys traveling right now?!?!" And others are quick to jump in. The first couple of responding comments seem to come to the aid of the couple, however, there are still a few that fear the couple is being unsafe and risky.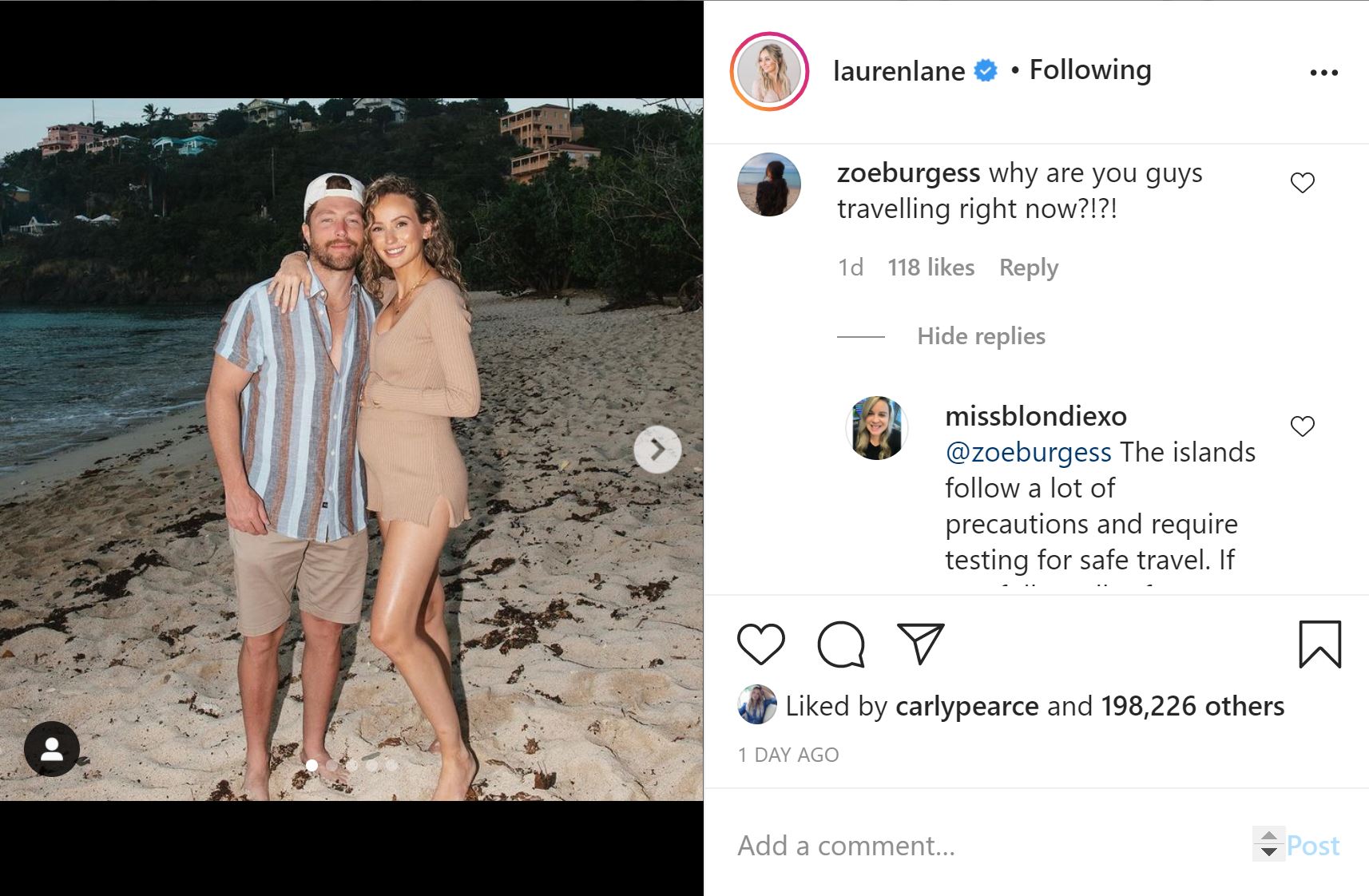 However, vacationing during a pandemic isn't the only thing people notice from Chris Lane and Lauren Bushnell's photos. Friends and fans are shocked to see Lauren's naturally curly hair. Others are just as excited to see her glowing with her healthy baby bump.
Are you happy for Chris Lane and Lauren Bushnell? What are your thoughts about vacations during the pandemic? Let us know in the comment section below. Come back to Country Music Alley for more news about your favorite Country stars.