Blake Shelton and Gwen Stefani hit another high in their relationship. The couple has been on cloud nine since getting engaged in October 2020. On top of that, the Catholic Church annulled Gwen's previous marriage to Bush frontman, Gavin Rossdale. That gives her the green light to marry Blake in the Catholic Church.
The duo can't stop talking about their engagement. They're just on a high at this moment. However, they haven't made any concrete wedding plans. Blake and Gwen would prefer to marry after the coronavirus pandemic ends.
And here's another reason for the couple to celebrate.
"Happy Anywhere" is popular on country radio
Gwen Stefani and Blake Shelton's "Happy Anywhere" has become a popular song. According to Music Mayhem News, the song is the most-added this week across 119 radio stations. Plus, "Happy Anywhere" received the third-highest first week total of any country song in 2020. That makes it five times larger than any other song.
Blake Shelton previously revealed that it was one of the "most fun" songs to record. Gwen even admitted that singing the tune makes her smile.
"You know, 'Happy Anywhere' has got to be one of the most fun songs that I've ever had a chance to record and the actual recording process was a blast," Blake said. "Listening to it afterward was a blast. I had a moment where Gwen told me, 'You know, there's something about this song that just makes you smile.' And it doesn't hurt that it has 'Happy' in the title."
Josh Osborne, Matt Jenkins, and Ross Copperman co-wrote the track. "Happy Anywhere" comes after his latest duet with Gwen called "Nobody But You." That song went No. 1, making it Gwen's first No. 1 country single and Blake's 27th No. 1 song. The song is also the couple's fourth collaboration.
Blake Shelton and Gwen Stefani's song went No. 1 before
"Happy Anywhere" previously hit No. 1 on country radio. Gwen was ecstatic about the news. The couple's hit song topped Mediabase's Country Top 30 chart for the week ending on December 7, 2020. Warner Music Nashville's Anna Cage noted the achievement in an email to Gwen, which the singer shared on social media.
"I can't believe I get to be part of your 28th number one radio hit and have my 2nd country radio hit!" Gwen told her fiance on December 5 via Instagram. "Sure is fun being number one but with you, it's another level!!!!!!! thank you country radio and thank you to everyone that listens to this fun happy love-filled song!!"
Gwen made her big return to pop with her new song "Let Me Reintroduce Myself." But she admitted to Zane Lowe that her comeback almost didn't happen due to uncertainty. Now, Gwen and Blake are looking forward to getting hitched. Some fans are holding out for more details on their wedding plans.
What do you think about this great news for Blake Shelton and Gwen Stefani? Let us know in the comment section below. Make sure to come back to Country Music Alley for more news about your favorite Country stars.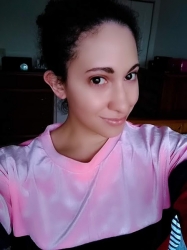 Latest posts by Chanel Adams
(see all)