Carrie Underwood is slowly revealing the details of My Savior. She previously revealed that her new gospel album will drop around Easter. On Christmas Day, Carrie gave her fans another Christmas gift. She previously released her first-ever Christmas album, My Gift.
But she wants to keep those good feelings going, especially in a time of uncertainty. Carrie is making her foray into the gospel music scene. She teased her project and said that it's a collection of hymns. However, she has not shared the tracklist.
But there is a release date. Read on to learn more.
American Idol winner talks about My Savior
Carrie Underwood has shared little details about the new album. She only revealed that she co-produced the project with David Garcia. He's the man behind her last album, Cry Pretty. But he's well-known for his work in Christian music. According to a press release obtained from Taste of Country, David won the ASCAP Christian Music Songwriter of the Year award twice. He also has writing credits on three of ASCAP's Christian Music Song of the Year winners including nine Gospel Music Association Dove Awards.
Carrie previously announced the release of My Savior on Christmas Day. In a video message to her fans, she exclaimed that the new project is a "bucket list" item. Since then, the "Hallelujah" singer dropped a trailer for the album. In the video, Carrie is seen in the recording studio. She recorded a collection of songs that she's listened to "since birth."
"This album is one that I have always wanted to make. This is legacy stuff to me," Carrie says in the video. "[They're] literally songs that I've heard since birth. These songs are like a warm hug, you know? Just familiar and sweet and songs I've been singing my whole life."
Carrie admits that working on both My Gift and My Savior was harder than expected. While she's sung these hymns most of her life, she's never performed them by herself.
"When you think about the meaning behind Easter, it's about so much thankfulness to Jesus," she continues. "That is what this album is about – just what joy it's been to make music like this right now."
Carrie Underwood finally announces the release date
My Savior is already available for pre-order and pre-save. Vinyl copies will also be available but will be delayed. They're set to drop on April 30. However, the official release date for My Savior is March 29, 2021. It'll come just in time for Easter, which is on April 4 this year.
Unfortunately, an official tracklist for My Savior is not available at this time. Fans will have to stay tuned to learn more about her new project. What are your thoughts on this new album? Are you excited to listen to it? Sound off below in the comments.
Check back with Country Music Alley for more news on Carrie Underwood.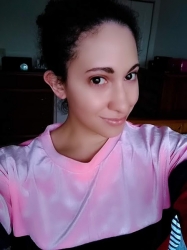 Latest posts by Chanel Adams
(see all)