Tim McGraw has written songs that make us laugh, cry and fall in love. But the "Undivided" singer admitted to being "a little apprehensive" when he first learned about Taylor Swift's debut single, "Tim McGraw." The country superstar addressed the song during an interview with Apple Music Country for Apple Country Music Essentials. Tim said that when he heard that Swift wrote a song about him it made him feel old. He was impressed by the song but had he really reached that point in his life?
"I thought, have I gotten to that age now to where they're singing songs about me? Does that mean I've jumped the shark a bit? Is everything still cool?"
The Song
Taylor Swift released "Tim McGraw" on her self-titled debut album in 2006. The song reached 40 on the Billboard Hot 100 and peaked at number 6 on Hot Country Songs. The song would later go on to be certified platinum by the RIAA. Swift wrote the song when she realized that her relationship would end when her boyfriend left for college.
Tim admitted that knowing Taylor was so young when she wrote her song made him feel better. "And then I realized that somebody had told me that she was in her seventh-grade math class when she wrote the song, so it made me feel a little bit better about that because she was so young writing it. So I didn't feel like I was that terribly old."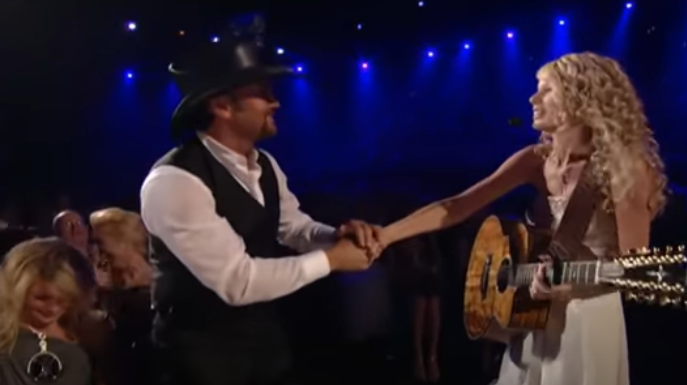 Taylor performed her song for Tim McGraw himself at the 2007 country music awards. She met Tim and Faith Hill for the first time later during the ceremony gushing, "It's so nice to meet you."
Tim McGraw and Taylor
Taylor went on to open for Tim and Faith during their Soul2Soul Tour where Tim talked about getting to know the young singer better. The "Indian Outlaw" singer talked about how impressed he was with her and her music. "It was incredible. It was just her and her guitar and one other person." Watching Taylor perform earned her Tim's respect and he became "a big fan of Taylor's." Tim added, "I think that she has just such a unique way of connecting with her audience, and her songwriting ability and her intuition is just so incredible."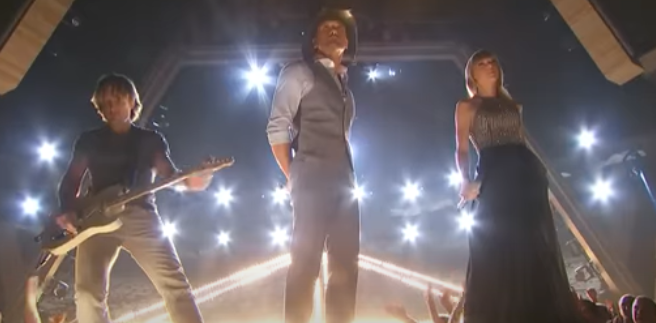 Taylor officially left the country music scene in 2013  after the release of her fourth studio album, Red. But her influence is still felt in the industry and McGraw convinced her to come back for another song. He collaborated with the "Love Story" crooner on the original single, "Highway Don't Care," in 2013. The song also featured Keith Urban on guitar. The record was a hit and reached triple platinum certification.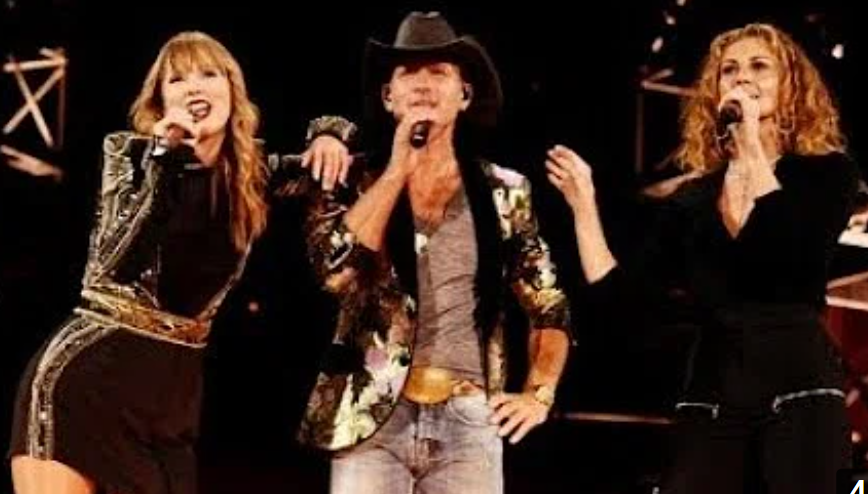 But that was not the end for Tim and Taylor. They performed together again in 2018. Tim and Faith surprised the audience of Taylor's Reputation tour and the trio performed "Tim McGraw." The final comment Tim made about Taylor was, "And I just think she's one of the greatest artists to come along in a long time."
Latest posts by Mandy Robinson
(see all)