Garth Brooks got a major boost from Lady Gaga's glam team. The country superstar thanked her hair and makeup team for "saving a cowboy" at the inauguration. On Wednesday, January 20, Brooks performed at the Inauguration of President Joe Biden and Vice President Kamala Harris. He was there alongside Lady Gaga and Jennifer Lopez.
Brooks made headlines for many reasons. Twitter criticized him for hugging the former presidents and their wives amid the coronavirus pandemic. Meanwhile, his conservative fanbase wasn't happy to see him perform at the Democrat's inauguration. Brooks is ignoring the hate and thanked Lady Gaga's team for coming through for him.
Garth Brooks called Lady Gaga "a national treasure"
Lady Gaga helped save Garth Brooks at Wednesday's inauguration. The two delivered separate performances as Joe Biden was sworn into office. Brooks sang his rendition of "Amazing Grace," while Gaga sang the National Anthem. After his performance, Brooks took to Twitter to give Gaga a shout out.
He thanked her longtime makeup artist, Sarah Tanno, and hair stylist, Frederic Aspiras, for getting him ready for the event. In his adoring tweet, Brooks called the "Rain On Me" singer "a national treasure."
"You were fabulous today and every day. A national treasure," Brooks tweeted. "Please tell Frederick and Miss Sarah thank you for me! They saved a cowboy today. Oh, and tell Miss Sarah to hug her momma for me! love, g."
. @ladygaga
You were fabulous today and everyday
A national treasure
Please tell Frederick and Miss Sarah thank you for me!
They saved a cowboy today
Oh, and tell Miss Sarah to hug her momma for me! love, g

— Garth Brooks (@garthbrooks) January 21, 2021
During the ceremony, Brooks wore a black cowboy hat with a black blazer, a black button-down shirt, dark denim jeans, and cowboy boots. Brooks removed his hat for his performance. The singer's rep told Taste of Country that Gaga's team provided hair and makeup services. However, it's unclear whether it was part of the plan or if Brooks needed them last-minute.
Country singer's performance attracted attention
Garth Brooks attracted more attention than he wanted to. His performance on Inauguration made headlines. Some of his conservative fans called for a boycott for performing at a Democrat president's swearing-in ceremony. Brooks has performed for nearly every president since Jimmy Carter.
However, he didn't perform for Ronald Reagan and Donald Trump. His wife, Trisha Yearwood, has performed for many presidents as well. Other fans noticed that the "Friends in Low Places" singer has a history of supporting bipartisanship and the LGBTQ community.
Regardless, Brooks is a registered Republican. He also sparked a conversation that he may have gotten hair plugs before the big day. But it's unclear whether that's the reason why Brooks needed Gaga's team.
But Gaga made headlines for her look. She went for an elaborate look while singing the National Anthem in a custom-made navy jacket, puffy floor-length skirt, and a giant gold brooch from Schiaparelli Haute Couture. Some fans thought Gaga looked like a character from the Hunger Games.
What are your thoughts on Garth Brooks' look at the inauguration? Sound off below in the comments.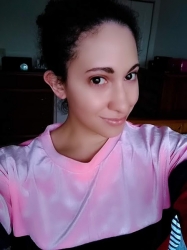 Latest posts by Chanel Adams
(see all)