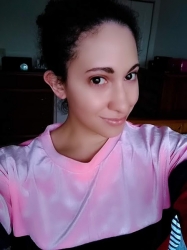 Latest posts by Chanel Adams
(see all)
Miley Cyrus is the latest person who wants to perform at Gwen Stefani and Blake Shelton's wedding. This comes after Raelynn made the same offer. As for Blake, he joked that he wants his best friend Adam Levine to play. He thinks Maroon 5's music is "boring" enough that it won't detract attention from him and his soon-to-be wife, Gwen Stefani.
Now, Miley is making an offer. The 28-year-old offered to perform at their upcoming nuptials. However, the couple hasn't made any concrete plans. Gwen said that she doesn't want coronavirus to become the center of their wedding. The couple wants their respective families to attend with the pandemic is over.
Miley Cyrus offers to perform at Gwen and Blake's wedding
On Sunday, January 31, Miley Cyrus took to Twitter to offer her service as the couple's wedding singer. Gwen Stefani took notice of the "Prisoner" singer's performance on NPR's "Tiny Desk Concert" series, as per E! News.
"Talented geeezzzz," Gwen wrote before adding her signature, "gx."
Miley was elated to receive the response from Gwen. She responded: "When my hero's [sic] tweet me I get horny."
"omg your crazy!! Flushed face blushing …gx," Gwen wrote back.
Then, she used this opportunity to perform for the couple on their big day.
"ALSO @gwenstefani @blakeshelton I'll be your wedding singer!" Miley added. "I promise to be on my best behavior. Or worst. whatever you want! It's your special day! Cheers to loving you both almost as much as you love each other!"
But it's unclear whether Gwen will take Miley up on her offer. She simply responded: "Thanks puppy gx."
Blake popped the question to Gwen in late October. The couple took to their respective Instagram pages to announce the news.
thanks puppy ❤️🐶 gx 😘 https://t.co/8s2X6BC6bD

— Gwen Stefani (@gwenstefani) February 1, 2021
Since then, the couple has been planning their wedding since they announced their engagement. The No Doubt singer shares three sons, Kingston, 14, Zuma, 12, and Apollo, 6, with her ex-husband Gavin Rossdale. Both Gwen and Blake want to include Gwen's sons in the ceremony.
"Gwen's sons are just really solid, sweet kids, and they're so excited for Blake and Gwen to get married," an insider said. "They can't wait to stand by their sides. [Blake] never wanted to overstep and made sure everyone was comfortable with his role in her son's lives."
Plastic Hearts singer performs a cover of Mazzy Star's "Fade Into You"
Miley Cyrus is riding high off her latest album, Plastic Hearts. But what's even more exciting is the covers she's been performing lately. Some of Miley's covers range from Hall & Oates "Maneater" to Hole's "Doll Parts." But her latest is her powerful version of Mazzy Star's 1993 song "Fade Into You," per Variety.
She performed it on NPR's "Tiny Desk Concert." She was seen inside a minuscule model of a teenage girl's bedroom. Country Music Alley previously reported that Miley will headline the first-ever NFL TikTok Tailgate at Super Bowl LV on Sunday, February 7. What are your thoughts on Miley performing at Gwen and Blake's wedding?
Who do you think their wedding singer should be? Sound off below in the comments.