Latest posts by Mandy Robinson
(see all)
Kelly Clarkson loves to try out new recipes on her show that her guests have either brought or suggested. But this week she was decidedly not happy with what she was going to eat. Kelly had Elizabeth Olsen as her guest and asked her what she has been cooking during the pandemic. Olsen talked about tools that she carries with her to location so that she can cook more easily, including a Veggetti and her personal kitchen knives.
The Voice coach was likely trying to get a clue of what she would be eating when she asked her question. Olsen admitted that she has been playing around with pasta recipes since she does not normally eat a lot of pasta. But she then told Kelly that her go-to snack at the moment when she didn't want to cook was, drum roll, anchovy toast!
Kelly Clarkson is not excited
When Olsen announced that anchovy toast was what she had "made" for Kelly the host's disapproving face spoke for her. "Generally, I am very excited when people make food and give it to me and I get to try it on this show."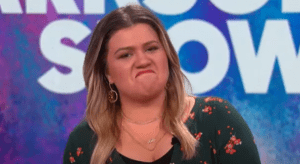 The singer continued saying, "This shows how much I like you because I hate anchovies!" Kelly had to hype herself up before trying the treat. "I am freaking doing it, and that's just because I think you're cool."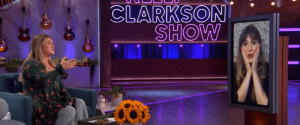 But Clarkson did try and put off the inevitable for a moment or two as she examined the toast. She told Olsen, "I secretly kind of hate you because I don't want to do it."
Olsen tried to make sure that the toast was made correctly. But as Kelly said, "And one looks hairy," all Olsen could say was "Good luck." Clarkson chose a slice of toast that looked less hairy and got ready for the bite. "I feel like I am on Fear Factor. Holy, word I can't say."
She took a couple of fortifying breaths before finally taking the plunge. And at first, she thought she would hate it, but slowly her face changed and the final review came out. "That was good."
Olsen looked pleasantly surprised by Kelly's appreciation for the treat. Kelly complimented the combination of flavors but stated that it would have been better with wine.
Valentine's Day and WandaVision
Earlier in the show, Kelly and Elizabeth discussed a few other topics including Valentine's day. The Marvel actress admitted that she and her fiancé, Robbie Arnett, don't celebrate Valentine's Day. Her reasoning is that there are too many special occasions near the fourteenth including their anniversary and both of their birthdays. "It's way too many things at the same time, so we don't acknowledge Valentine's Day.
The pair also discussed Olsen's new Disney+ show WandaVision. The show's timeline follows immediately after Avenger's End Game. The show has Wanda and Vision living their lives in classic sitcoms. The story unfolds as the audience comes to realize that everything is not as it seems. Olsen describes the unveiling as pulling a string and everything starts to unravel.
So be sure to watch WandaVision on Disney+ to find out exactly what is wrong with the world the couple finds themselves occupying.