Kelly Clarkson reacted to dating horror stories. This coming week, she's kicking off a weeklong Valentine's Day celebration on The Kelly Clarkson Show. This comes amid her divorce battle with estranged husband Brandon Blackstock. The fun starts on Monday, February 8.
"Since U Been Gone" singer reacts to dating horror stories
As fans know, the singer is currently in the midst of a divorce from ex-husband Brandon Blackstock. Country Music Alley has been sharing the details of their ongoing legal battle. But over on The Kelly Clarkson Show, it's all fun and games. Kelly reacted to her viewers' dating horror stories and some of them are juicy.
The singer is gearing up for a week of love. It doesn't matter whether you have a Valentine or not this year. Kelly has something for everyone this week. Viewers will relate to some of the most horrific and embarrassing dating stories.
"If you're gonna get her some cheese, at least get her some damn good cheese," Kelly says in the new clip. "Some smoked Gouda. Something from France possibly. I'm just saying."
The American Idol had a good laugh over one story. One viewer revealed that their ex-husband forgot that it was Valentine's Day one year. He tried to get flowers delivered, but it couldn't happen on the day of. So, he should up to her workplace with steamed lobster and then took off.
"He could've done really well there and said, 'I'm so sorry, I forgot. I wanted to do this,'" Kelly said with a laugh. "At least have lunch with her. Once again, if you're going to forget, just say, 'Oh my God, I forgot. Let's do something cool this weekend to make up for it.'"
The "Because of You" singer admits that she often forgets about Valentine's Day. According to Kelly, people shouldn't "put in the effort unless it's going to matter." She also noticed that "three is a lucky number" when it comes to relationships. Check out the rest of the clip below.
Kelly Clarkson opens up about therapy
Kelsea Ballerini made an appearance on The Kelly Clarkson Show last week. The two discussed the importance of therapy. Kelsea admitted that therapy inspired her to write a new album of songs. Kelly revealed that she started going to therapy over a year ago.
During the interview, Kelly addressed the "huge shift" that took place during her life in the "past nine months." She's fortunate to have found a therapist that she can speak to about these changes taking place in her life. Kelsea also admitted that she goes to therapy regularly with her husband, Morgan Evans.
Therapy is considered taboo in both the South and the country music world. So, it's good to see two successful women talk about it as if it's no big deal. Kelly and Kelsea will encourage their younger fans to seek the help they need. Check out the full interview below.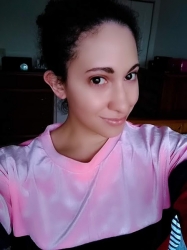 Latest posts by Chanel Adams
(see all)