Miley Cyrus headlined the first-ever TikTok Tailgate. The performance took place before the Super Bowl on Sunday, February 7. It was history in the making. Lately, the singer has been receiving praise for her first-ever rock album, Plastic Hearts, along with her covers of classic rock songs.
But she embraced her pop roots on Sunday afternoon. The singer got emotional when she sang "Wrecking Ball" during her performance. Miley is the first artist to headline the pre-show performance. The singer wore black and purple leather as she rocked out on stage.
She performed many of her hit songs and cover songs with special guests.
Miley Cyrus breaks down during "Wrecking Ball" performance
It was an unforgettable event. But the most notable moment was when Miley Cyrus broke down crying while singing her 2013 hit "Wrecking Ball." Most fans believe the song is about her ex-husband, Liam Hemsworth. During her performance, Miley became emotional and had to stop singing at one point, according to E! News.
Once she collected herself, she got back into the groove. Following the performance, the "Midnight Sky" singer explained why she had a difficult time getting through it. The singer may be all about sex, drugs, and rock 'n roll these days. But everyone else, Miley just wants someone to love.
"I wear a lot of glitter and I wear a lot of armor, but I also wear my heart on my sleeve, and it gets broken a lot."
During the show, Miley wore a sequin football jersey, which she later swapped out for a leather cheerleader outfit. Although "Wrecking Ball" made her emotional, she was on a high during the rest of the show. She sang a cover of Toni Basil's "Mickey," in which she changed the lyrics to "Miley." She also sang her new song "Prisoner" and a rendition of Blondie's "Heart of Glass."
There were also some surprise guests. Miley invited rock legend Joan Jett on the stage to sing her hit songs "Bad Karma," "Bad Reputation," and "I Hate Myself For Loving You." Then, Billy Idol joined the Hannah Montana alum for a memorable performance of their Plastic Hearts track "Night Crawling" and a duet of "White Wedding."
Former Disney star goes back to her roots
Miley Cyrus also performed her new songs "Angels Like You," "Edge of Midnight," and "Nothing Breaks Like a Heart." Then, she threw in some throwback jams like "Party in the U.S.A." and "We Can't Stop." She also covered numerous tracks like Dolly Parton's "Jolene" and Nine Inch Nails' "Head Like a Hole."
She even sang another ballad from her Hannah Montana: The Movie, "The Climb," which was marked the final song of the event. Miley's performance aired on the CBS Super Bowl LV Pregame Show. Meanwhile, viewers in the U.S. and Canada could live-stream it via the NFL account on TikTok. 7,5000 vaccinated Florida-based health care workers attended the COVID-19 safe event in-person.
During the performance of "The Climb," Miley shared the names of the frontline workers in attendance. She said "the dedication of this song could never repay you for your services." What did you think of Miley's headline event? Sound off below in the comments.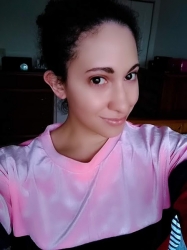 Latest posts by Chanel Adams
(see all)