Carrie Underwood is putting a leg up on her work. The country singer is recovering from an injury. She is slowly getting back to her love of working out. On Tuesday, February 9, the Grammy winner showed off her incredible flexibility.
She surprised her fans with the fitness shot. The "Jesus, Take the Wheel" singer shocked her fans when she dropped the new photo. Carrie wore a black sweatshirt over a navy-blue shirt. She paired the look with multicolored leggings from her CALIA by Carrie Underwood line.
Check out Carrie's hot look below.
Getting back on her fitness
Carrie Underwood wants to get back to her A-game. She showcased her long limbs in the new Instagram photo. She also promoted her new gray, black, and cream-colored leggings from her exclusive line. The "Before He Cheats" took a high lunge while placing her hands on her knee for an even deeper stretch.
"Ready. Stretch. GO!" Carrie captioned the photo. "#ChooseYou #StayThePath @caliabycarrie."
The photo received over 93,000 likes. The country singer received a lot of love from her fans, friends, and followers. They commended her for her flexibility. Others fawned over her stunning looks.
"Carrieeeeeee 🔥🔥🔥🔥 you look stunning!!!!!" her friend Jessie James Decker commented.
"Smoke 🔥," one follower wrote. "The best side profile goes to…..," a second one added.
The exercises Carrie Underwood swears by
Her personal trainer, Eve Overland, spoke exclusively to Shape Magazine. She said that Carrie Underwood stays strong with just five workouts. Her tried-and-true workouts include bicep curls, bodyweight squat to tuck jump, hanging leg raises, renegade rows, and walking lunges. Sometimes Carrie and Overland will mix it up with high-intensity workouts like a 20-minute HIIT running workout on the treadmill.
The two often work out together one-on-one whether the singer is at home, at a mobile gym, or on tour. In another interview with The Beet, Eve said that self-care is an important part of Carrie's daily routine. She prepares for events that don't require 90 minutes at the gym. Instead, Carrie focuses on cardio and relies on a three-move routine, which is easy for anyone to do. Those moves are deadlifts, lunges, and squats.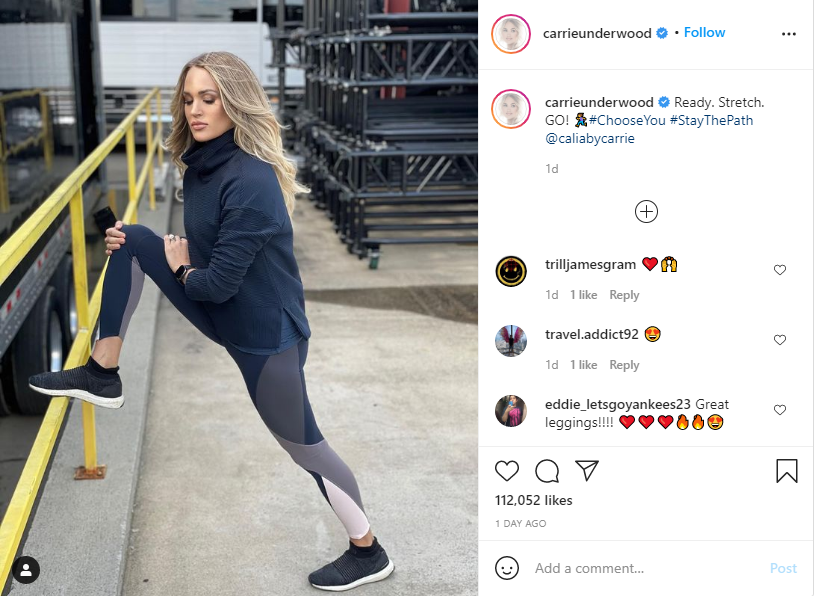 When it comes to getting her strong arms and toned abs, the "Before He Cheats" singer does mountain climbers. Another signature move is bicycle kicks. And sometimes Carrie will do a few burpees. But when it comes to her arms, she'll do pushups or dumbbell curls.
As Country Music Alley previously reported, Carrie partnered up with Body Armor and Hydration. The reason why she teamed up with the brand is that she wants to teach the importance of staying hydrated. When you're dehydrated, it can be difficult to stay focus. Carrie said that the drinks "taste like a cheat" because it doesn't taste like water.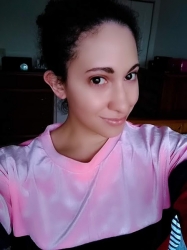 Latest posts by Chanel Adams
(see all)