Carrie Underwood is finally back to working out. The country singer sustained an injury that prevented her from doing her favorite thing in the world aside from singing. On Friday, January 29, Carrie announced on Instagram. She revealed that she's finally back to her regular workouts.
"Hallelujah" singer "slowly stepping back" to working out
But she's taking it slow. That's because she had a neck injury that kept her sidelined. The American Idol alum didn't reveal how she got injured or if the injury was severe. But by looking at her recent selfie, she was happy to get back to the gym. As fans know, Carrie Underwood is a huge fan of fitness.
"Been out a few days w/a neck injury," she captioned her post, which was previously posted by a fan page. "Slowly stepping back in w/swaps and modifications."
Carrie accompanied the post with a makeup-free selfie. In the photo, she wore braids and a gray sports bra. Of course, she also had a big smile on her face. Carrie just couldn't wait to lift those weights once again.
This isn't the first time that the singer was off her workout schedule. She had to modify her routine after she suffered a fall at her Tennessee home in November 2017. Carrie broke her wrist, which also caused her to get more than 40 stitches to her face. At the time, the "Jesus, Take the Wheel" had to figure out which workouts she could do and couldn't do during that time.
"It definitely messes with your mind, you know? But I knew that if I did nothing, that would make me feel even worse," Carrie told Shape in 2018. "If you're dealing with any injury, I say, whatever you do, just don't stop. Even if it's just going for a walk."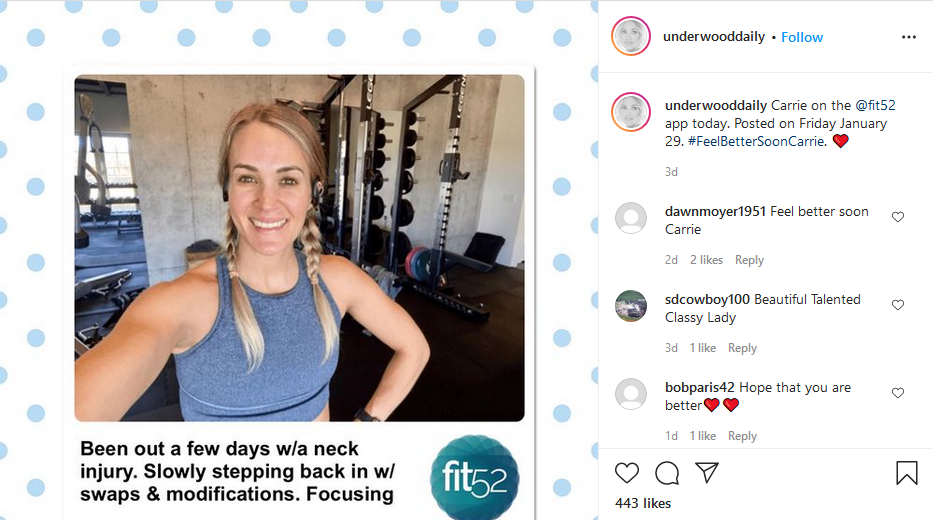 Carrie spent most of her 2020 during the quarantine by working out. She's been sharing some of her workouts with her fans and followers on Instagram. In March 2020, Carrie launched her Fit52 app in conjunction with the release of her new book Find Your Path: Honor Your Body, Fuel Your Soul, and Get Strong With the Fit52 Life. The app features workouts created by Carrie and her personal trainer, Eve Overland.
Carrie Underwood talks about her passion for fitness
The superstar doesn't let anything slow her down. She's still passionate about fitness, even if she gets injured. During the release of her new app, Carrie Underwood talked about her love for fitness.
"Fitness is a true passion for me," the Grammy winner said in a statement. "The fit52 app incorporates what I've been doing myself for years, and we've made it easy and totally accessible for anyone that wants help to work in working out. We worked really hard to create a high-quality, user-friendly app that is designed for busy people and their busy lives. Fit52 meets you wherever you are on your health journey, and I'm so proud of it."
Since then, Carrie has stepped up her fitness. She recently teamed up with BODYARMOR LYTE Sports Drink as part of a new partnership. The singer also stars in the brand's first-ever television campaign, which you can watch below. In the meantime, Carrie is gearing up for the release of her first-ever Gospel album, My Savior, on March 6, 2021.
Come back to Country Music Alley for more news about your favorite Country stars.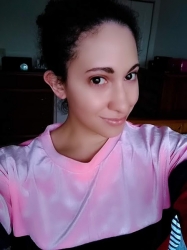 Latest posts by Chanel Adams
(see all)