Dolly Parton launched an ad for her new perfume on Super Bowl LV on Sunday night. The country music legend debuted the fragrance called "Dolly – Scent From Above." It's part of her partnership with Squarespace. The controversial ad was a play on her classic song 9 to 5.
However, most people were focused on the ad rather than her new fragrance. They thought the new take on the 9 to 5 (called "5 to 9") was ridiculous and promotes gig culture. Others didn't like that it played off the GirlBoss movement that's taken over social media for the past few years.
Dolly Parton debuts new fragrance on Instagram
But that's not all. Dolly Parton also debuted the fragrance on Instagram just days before her Squarespace ad. In her latest post, she shared a slideshow with two photos. The first showed a woman holding Five to Nine Magazine with Ms. Dolly Parton herself on the cover. The second gave fans a close-up of the perfume bottle, which fits her signature style.
"I spent my #5to9 working on my new fragrance and with the help of @squarespace, it's now available online!" Dolly wrote in the caption. "Visit the link in my bio or scan the QR code on this image to check out my site and get your sample of 'Dolly – Scent From Above' while supplies last."
Dolly's perfume is a passion project. She made it happen through her partnership with Edge Beauty. She previously told WWD that "fragrance has always played a major role in my life."
"We know that people like to scent their hair, clothes, homes, as well as their own skin," Steve Mormoris, chief executive officer of Edge Beauty told the publication. "So we're working on a multiplicity of olfactory forms that will indicate the fragrance value."
On her official website, Dolly announced that that the full-size bottles will arrive in July 2021. But you can try the samples for $10. In her statement, Dolly calls this launch "a dream of mine." She always wanted to have her own perfume as long as people asked why she smells so great.
"The truth is, I have been blending my own scent for years," Dolly explained. "It's a combination of bath oils, powders, and perfumes that have become my 'signature' and is known everywhere I go. It's time for me to share this with you. I hope you enjoy!"
She's launching a full beauty line
Dolly Parton wants to use her creative vision and experience to start her own beauty line. According to Paper Mag, the range will also include a skincare line as well as a wig line. In a previous interview with Elle Magazine, she teased her own clothing line along with her collection of wigs.
"It's one of my dreams – the makeup, hair, and wigs, clothes, all that sort of thing," she said.
What are your thoughts on Dolly's debut fragrance? Do you plan on buying it? Sound off below in the comments.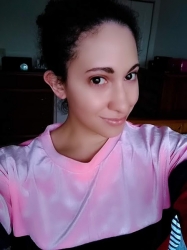 Latest posts by Chanel Adams
(see all)