Kane Brown dropped two big announcements this week as he told the world about his new label 1021 under Sony Music Nashville. And the first act he signed to his label was Restless Road. But who exactly is the group that Kane was so eager to begin his journey as a mentor with?
Restless Road is a rising trio of talented guys that got their start on The X Factor in 2013. The group was initially formed when Simon Cowell saved two of the original members, Zach Beeken and Colton Pack, from elimination. Cowell had Beeken and Pack join singer Andrew Scholz, creating a group act and giving birth to Relentless Road. After a fourth-place finish on The X Factor though Scholz was replaced by Garrett Nichols, rounding out the group fans now know.
Restless Road looking for their first big single
Last year Restless Road was set to join Kane Brown on his Worldwide Beautiful tour. The group was set to be the opening act for the tour, but the pandemic canceled those plans. They did release an EP with the title track Take Me Home, a John Denver-inspired song. Denver's estate gave the reimagined track of Take Me Home, Country Roads their blessing.
The track was a collaboration with Kane Brown, who premiered the song at his Staples Center concert in January 2020. The song peaked at number 7 on the Billboard's Digital Song Sales chart. Now Restless Road looks to have a number one single with their latest song I Took One Look at Her Momma.
The song was written by Restless Road along with Lindsay Rimes and Andy Albert. Nichols shared that the inspiration behind the song came from a heart to heart with his father. He said, "The song stemmed from a really entertaining conversation my dad and I had where he was basically sharing fatherly wisdom on everything from fishing to finding the right woman."
That fatherly advice including looking at a woman's mother to see who she will likely become. And from their Beeken suggested the song title and it was off to the races. Nichols remembers, "We all looked at each other, and we were like, 'Yeah, that could be pretty cool.'"
It's old hat by now
Being formed in 2013, Restless Road is not new to the music scene. However, after their success on The X Factor, they went through several changes. The members actually changed twice, and in 2019 the group had actually decided to separate. But in mid-2019 Kane Brown reached out to Colton Pack. Brown originally met Pack and Beeken in 2013 when they all competed on The X Factor. Brown's interest in Pack and Restless Road led to the reforming of the band.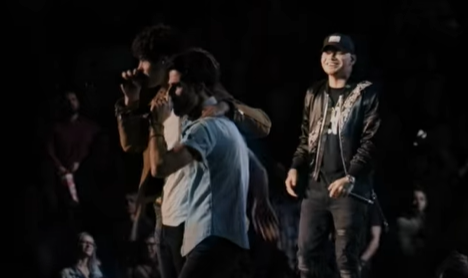 He said, "We all look at [Kane] as an old brother. He has great advice on music stuff, but even personal matters; he's always there to help, and he's always looking out for us. And he's been there, so he knows what to expect … Yeah, he's just really a good guy."
Brown is already very protective of this group and while he considers them his friends; he also said he feels responsible for them, explaining. "Me and Restless Road go back six years. We've just started, you know, really, really, really to become friends recently because we're actually working together for good now … I feel like a dad just to see everything they are doing, and I feel like they have a long career ahead of them."
Latest posts by Mandy Robinson
(see all)