Carrie Underwood opened up about her "perfect date night" with husband Mike Fisher. This comes just in time for Valentine's Day weekend. The duo have been married for over a decade. Mike and Carrie wed on July 10, 2020 at the Ritz Carlton Lodge, Reynolds Plantation in Georgia. Since then, the couple has been through their share of ups and downs.
But no matter what, they persevered. In an interview with Cody Alan, Carrie revealed what she likes doing with her husband on any given night. The country star's response may shock you. Most of the time, the pair keeps their date nights simple and low-key.
Carrie Underwood shares her "perfect date night"
The "Love Wins" singer sat down for an interview with Cody Alan. She talked what she likes to do with her husband. Carrie Underwood admitted that she loves to look good for him. But what they do together will surprise you.
"I love when Mike and I can dress nice, and look nice for each other, and put that extra effort in and go out and not just have dinner, but like, sit and talk," she explained, according to Buckeye Country 94.3. "We are one of those annoying couples that go to a restaurant and never leaves. I love when we can go and sit at the bar and have a glass of wine and have this long drawn out process where we can just eat, and drink, and sit, and talk to each other."
This may come as a surprise to her fans. Carrie and Mike like to keep it simple. But it works for them. Having regular conversations with your spouse is important. It's one of the secrets to a successful marriage.
It's probably also one of the reasons why the country singer and former hockey player have lasted for so long.
Singer gets "Softly and tender" in new song
Carrie Underwood announced that she's working on a new gospel album. It's the companion album to her Christmas album, My Gift. Little was known about this particular album except for the name and release date. Finally, the American Idol alum released the new song "Soft and Tenderly."
On Friday, February 12, Carrie released the simple yet inspiring song. Her voice is accompanied by a piano throughout. Two minutes into the song, a steel guitar makes its entrance. But this quiet and reflective song is different from any other song she released before.
"Soft and Tenderly" is one of the 13 tracks on Carrie's new album, My Savior. Some fans might recognize this song. She performed a version of this song at the 2017 CMA Awards' in memoriam segment. Carrie was so overcome with emotion that she choked up when it concluded with honoring the victims of the shooting at the Route 91 Harvest Festival in Las Vegas.
My Savior drops on March 26, just in time for Easter. However, it's been three years since Carrie released a country album. Fans are patiently waiting for the singer to go back to her roots. But this is the only project she's teased so far.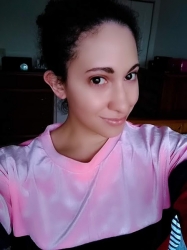 Latest posts by Chanel Adams
(see all)