Kelly Clarkson wowed her fans on Instagram. On Wednesday, February 10, she posted a slideshow of photos. Not only did she show off her cute little black dress, but she also gave fans a sneak peek at her beautiful bedroom. The Voice U.S. coach also made a big announcement.
The Behind These Hazel Eyes singer is teaming up with Wayfair. That's right, Kelly is the latest country star to have her own home collection. This comes after Dolly Parton debuted her new homeware line with Hobby Lobby. Fans came across the delightful discovery in select stores.
Daytime host shows off her beautiful bedroom
In her latest Instagram post, Kelly Clarkson posed next to her 12 south canopy bed. It was adorned with muted colors such as beige, peach, gray, and white. Kelly also showed off the other furniture in her home, including a pink Louise Task chair, a Sasha area rug, a Silvie upholstered panel headboard, and an Ada ottoman.
"I love a pop of color, and these cute pink pieces from my line at @Wayfair are the perfect way to show off some personality," Kelly wrote in the caption. "If you love them too, check out the whole collection by heading to Wayfair's profile and clicking the link in their bio!"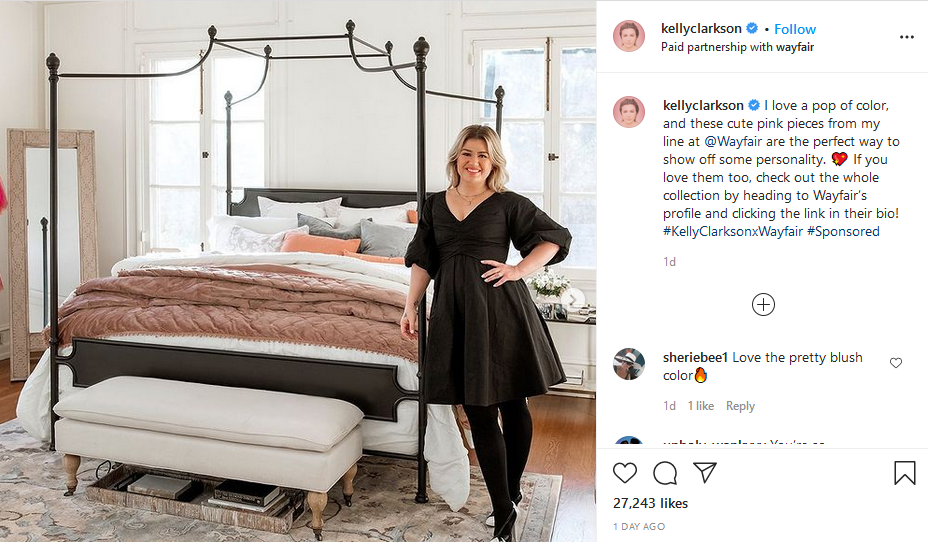 The collection is called Kelly Clarkson x Wayfair. It makes perfect sense since she also stars in the brand's ads. Some of Kelly's fans couldn't wait to purchase some of the items featured in her Instagram post. Others said that the daytime host looked "beautiful." One follower asked: "Ok but THE DRESS!??!?!" Here are some other comments from the post:
"Girl, how do you become more gorgeous every second?"
"Omg everything is so cuteee."
"That looks great! Nice color design match! Keep up with the great work kels!!"
"You're so beautiful."
"Wow that's amazing."
"Beautiful line!!!"
Kelly Clarkson underwent weight-loss tranformation
Fans couldn't believe how good she looked in her latest Instagram post. According to Hello! Magazine, the singer lost 35 pounds in 2018. Kelly Clarkson credits her dramatic weight loss from the 2017 book The Plant Paradox: The Hidden Dangers in 'Healthy Foods' That Cause Disease and Weight Gain by Steven Gundry. But it wasn't just about losing weight. She revealed that her weight loss helped with her longtime thyroid problem.
"I had an autoimmune disease and a thyroid problem that started in line 2006," Kelly previously said on Today. "I read this book… it might not work for you but it worked wonderfully. Here's the best part, y'all, it's not even the weight – I mean, I know the industry loves the weight gone, but I mean, for me, it wasn't really the weight. For me, I'm not on my medicine anymore. My bloodwork came back and I haven't been on my medicine since February."
Kelly has also called out body-shamers on social media. In 2017, one online troll called her "fat" after she shared an inspiring message on the Fourth of July. She responded with the cool message: "and still f***ing awesome."
What are your thoughts on Kelly's home collection with Wayfair? Sound off below in the comments.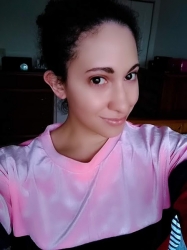 Latest posts by Chanel Adams
(see all)