Jason Aldean is always in the passenger's seat when he's driving around with Brittany Aldean. Some fans want to know the reason why. The couple often shares their lives on their respective Instagram pages. In most of the photos and videos posted, Jason is often seen riding shotgun.
Other clips show the couple dancing or singing. However, Brittany does most of the dancing. She also does most of the driving. Jason is rarely seen driving in the videos. Just weeks ago, the couple went on a trip to the Turks and Caicos that had fans wondering about this very thing.
Why does Brittany Aldean drive Jason around?
According to the Taste of Country, Brittany Aldean explained via Instagram that she didn't feel comfortable driving on the left side of the road in a foreign country. Fans noticed she wasn't the one at the steering wheel this time. But there was no reason to worry. As the 33-year-old is fine after her recent health scare.
The reason why she usually takes the wheel is that she gets carsick if she doesn't drive. Brittany found the perfect solution: to not let anyone else drive. Fans noticed the couple driving together in an ad for Brittany's new line of hair extensions. Jason gave his wife the keys to their Mercedes SUV as they go out for the night.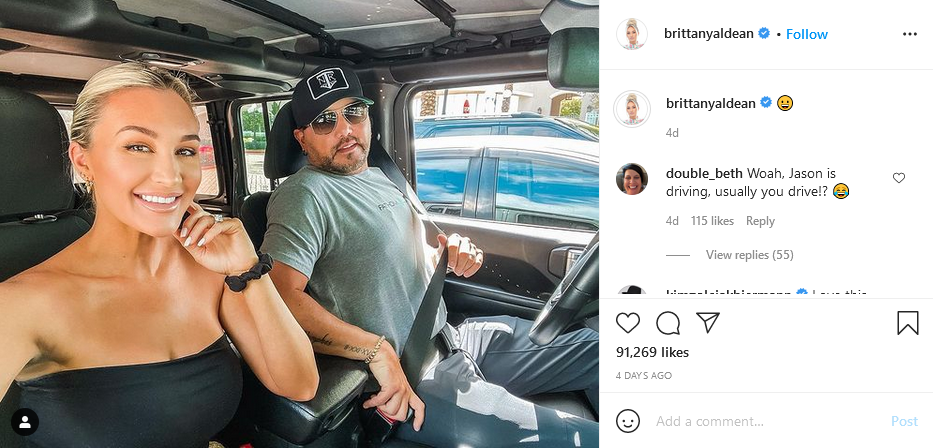 As for their latest trip to Turks and Caicos, it was an adults-only trip. That trip likely happened several weeks ago. In an exclusive interview with Taste of Country, Brittany says she saves her vacation content until she's returned home. It provides an added sense of safety for their family.
How the Aldeans establish a routine
The ongoing coronavirus pandemic feels like it's lasted two years, rather than one. Brittany Aldean, Jason Aldean, and their two children, Memphis, and Navy spent most of their time in lockdown. Since then, the couple has been making trips here and there. They've been trying to spend most of their alone time together.
Pre-Covid, Memphis entered school when he was a year and a half. Brittany and Jason made the decision for social reasons. While he wasn't in school for most of 2020, she admits that they tried to establish some sort of routine.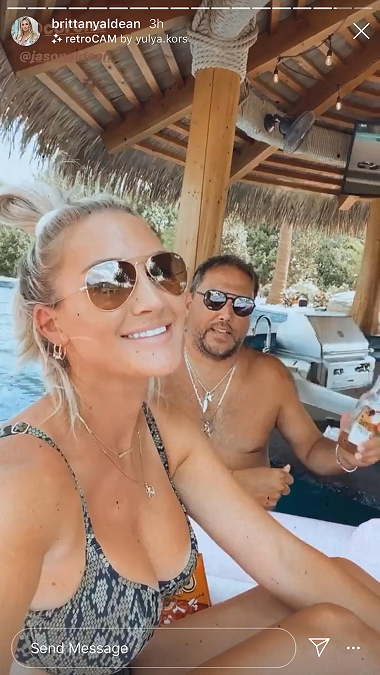 "Our days are so scheduled, typically. It's like, they wake up, we have breakfast, we play, we have lunch," Brittany explained to Country Now. "Everything is on such a schedule. Around 6:30, we put the babies in bed, and Jason and I have our me-time, we do our thing. We watch shows, have a glass of wine, and just hang out."
As for Brittany and Jason, they try to schedule their "us-time." The couple enjoys a glass of wine as they watch television. If they feel they need a "date night," they take off for the weekend. That little bit of time away gets them back on track.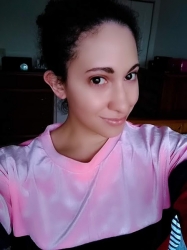 Latest posts by Chanel Adams
(see all)