Kacey Musgraves is not shying away from her feelings. Earlier this week, Rolling Stone published a profile on the country singer. In the exclusive article, she talks about everything from tragedy to divorce to her icons and influences. The "Rainbow" singer addressed her four-year marriage that she says "simply didn't work out."
Last year, Kacey and Ruston Kelly filed for divorce. The couple seemed happy and in love on their respective Instagram pages. But then fans noticed that they were posting about each other as much. This came after Kacey's star continue to climb after her big win at the 2019 Grammy Awards.
Now, see what she has to say about their marriage.
Kacey Musgraves reflects back on her marriage to Ruston Kelly
Kacey Musgraves met singer-songwriter Ruston Kelly in 2016. The two started dating after writing songs together. Then, they wed in 2017. Now, in her profile with Rolling Stone, Kacey revealed that they simply grew apart. She added that "our season changed."
"It's nothing more than that," Kacey said, as per Taste of Country. "It's two people who love each other so much, but for so many reasons, it just didn't work. I mean, seasons change. Our season changed."
When the couple released a joint statement in July 2020, they said that it "simply just didn't work out." Several events led to the downfall of their marriage. The coronavirus pandemic, the political unrest, among other things. Kacey and Rusty weren't used to spending so much time together. That's when they realized they were more different than previously thought.
💔 https://t.co/XywbUWgkk1 pic.twitter.com/Rb1rSzfFxs

— K A C E Y (@KaceyMusgraves) February 11, 2021
Golden Hour singer says "tragedy" is inspiring her new music
Kacey Musgraves is working on her next album. She revealed to Rolling Stone that it'll be out later this year. It'll be the follow up to the 2019's Grammy Awards Album of the Year, Golden Hour. The 32-year-old revealed that "tragedy" will be the overlying theme of her next album.
"The last chapter of my life and this whole last year and chapter for our country – at its most simple form, it's a tragedy," Kacey explained. "And then I started looking into why portraying a tragedy is actually therapeutic and why it is a form of art that has lasted for centuries. It's because you set the scene, the audience rises to the climax of the problem with you, and there's resolve."
.@KaceyMusgraves appears on the cover of our third-annual Women Shaping the Future issue.

How the queen of 'galactic country' is following up a career-defining album (and a divorce) with a little help from Bach, Greek tragedy, and magic mushrooms. https://t.co/IzPYjCBNa0 pic.twitter.com/EXnPGUSC9K

— Rolling Stone (@RollingStone) February 11, 2021
— K A C E Y (@KaceyMusgraves) February 11, 2021
The singer got her inspiration from Bach's 18 century "Komm, Süßer Tod, Komm Selge Ruh," and Baz Luhrmann's 1996 version of William Shakespeare's Romeo and Juliet. The singer-songwriter said that she's already written 39 tracks inspired by a three-part Greek tragedy. She's been working in the studio with Golden Hour producers, Daniel Tashian and Ian Fitchuk. Kacey is determined to make an album that's more reflective of her present self than Golden Hour.
Her other icons and influences
Kacey Musgraves is also inspired by her fellow artists. She told Rolling Stone contributor Alexis Morris that she adores Cher, Dolly Parton, Sade, and Selena. Dolly allowed Kacey to try on some of her iconic outfits in 2015. And she saw Cher perform live on her birthday. As for Selena and Sade, both singers left an impression on her with their works of art.
.@KaceyMusgraves sat down with magazine writer @AlexMorrisNY to talk about her biggest icons and influences.

Watch the full interview here: https://t.co/e7SR8XH46H pic.twitter.com/tTa7gzow9Y

— Rolling Stone (@RollingStone) February 12, 2021
What are your thoughts on Kacey's upcoming album? Are you excited? Or, do you prefer her older albums? Sound off below in the comments.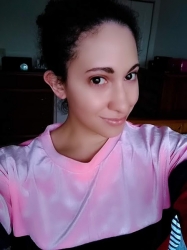 Latest posts by Chanel Adams
(see all)