Kelly Clarkson invited Dwayne "The Rock" Johnson for a country duet. Most fans don't know that he was a country singer before he became a Hollywood actor and WWE star. On a recent episode of The Kelly Clarkson Show, he talked about the time he moved to Nashville to make his big start.
Check out the clip before.
An unlikely country duet?
Before their duet, Dwayne talked about his interest in country music. Then, the American Idol alum invited him to sing with her in the future. Country music has had its share of unlikely duets over the years. But this is one collaboration that fans are looking forward to.
There was plenty of praise for Kelly Clarkson and The Rock in the YouTube comments section. One fan called the interview a "classic moment in history." Others thought the duo was going to break out into song right there. Some fans want Kelly and Dwayne to perform their rendition of "Islands in the Stream."
"Kelly you did 'Islands in the Stream' with Jimmy Fallon during 'The History of Duets,'" one fan wrote. "It's one of my favorites because you guys are great & it makes [me] laugh."
"Would love Kelly and the rock [sic] singing island in the stream," another user wrote.
Fans are now impatiently waiting for a duet from the two. Kelly continues to make headlines for her impressive "Kellyoke" segments. She's received tons of praise for her rendition of country and pop songs. Fans are holding out hope for a cover album.
Kelly Clarkson surprises The Rock!
In the meantime, Kelly Clarkson wanted Dwayne to feel welcome on her show. He was the first-ever celebrity guest on The Kelly Clarkson Show in September 2019. At the time, he filled in for Kevin Hart, who was hospitalized following a back injury. So, Kelly wanted to do something special for Dwayne.
She threw him a surprise socially distanced parade. The studio stage had wild performers who performed acrobatics. Even Kelly herself was in a state of shock.
"What the hell just happened?" she jokingly asked after the celebration ended.
"First of all I want to say what a beautiful gesture, thank you so much for doing this, Kelly, this was an amazing surprise," Dwayne said. "And now the world knows what goes through my wife Lauren's head after we have a sexy date night… all that stuff!"
He was obviously touched by that incredible moment. Kelly is reported to replace Ellen DeGeneres' daytime show. The ratings for The Kelly Clarkson Show continue to climb as Ellen's struggle amid her controversy. Most fans on her YouTube page agree that she has "the best talk show ever" and is a "likable" host.
What are your thoughts? Would you like to see a duet between Kelly Clarkson and Dwayne Johnson? Sound off below in the comments.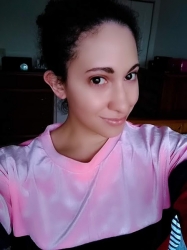 Latest posts by Chanel Adams
(see all)