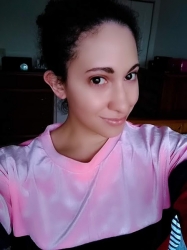 Latest posts by Chanel Adams
(see all)
Kelly Clarkson did it again. She successfully performed one of No Doubt's hottest songs during her "Kellyoke" segment. On Monday, February 15, the singer-songwriter and her band, Y'all, covered No Doubt's song "Just a Girl" on The Kelly Clarkson Show. She gave a unique twist to the 1995 hit.
Kelly's vocals were on display throughout the song. It's clear that she can sing anything that she sets her mind to. "Just a Girl" was featured on No Doubt's third album, Tragic Kingdom. That very album catapulted the band's fame. At the time, they were known as just another ska-punk band.
But they eventually crossed over into the mainstream before diving into pop.
American Idol alum covers No Doubt's "Just a Girl"
Kelly Clarkson wore a colorful dress for the segment. She had on a yellow dress that featured black polka dots. This time, instead of standing in front of the microphone, she sat in a chair with the microphone stand in front of her. She slowed down the song and gave it a laid-back feel. Kelly's version is strikingly different from No Doubt's upbeat recording.
Her vocals really take off during the 58-second mark. Kelly holds onto the final note as she sang, "That's all you'll let me be." You have to watch this performance for yourself. It's sure to give you chills. In 1996, "Just a Girl" went to No. 23 on Billboard's Hot 100. It also received plenty of radio play, which propelled the band and Gwen Stefani into stardom.
Of course, fans fell in love with Kelly's cover. They took to the YouTube video to share their thoughts on her chill performance. Others were in shock over her vocals. They feel that she can do no wrong.
"I was very surprised by this arrangement," one fan wrote.
"It's not spunky, attitude-driven, and fast-paced like the original at all, but you can really hear the sadness in Kelly's voice, especially those high notes," a second fan commented. "I hope Gwen sees this version!"
"DEAR GOD! Please release a full version of this haunting rendition," a third user said. "This was 'chefs kiss.'"
Kelly Clarkson covered one of Gwen Stefani's song before
Kelly Clarkson has covered The Voice coach before. Last week, Country Music Alley reported when she performed "Misery" on her daytime show. Even Gwen Stefani shared praise for her fellow coach on social media.
"ok @kellyclarkson my mind is blown – can't believe u sang #misery on your show!!" she tweeted. "so beautiful!! thank u."
Kelly even covered her fiance Blake Shelton. She previously performed his song "I'm Sorry" during the segment in October 2020. Of course, some fans love Kelly's country covers more than anything else. Check out her version of "Misery" in the video below.