Typically, Taylor Swift is private about her relationship with Joe Alwyn. Ever since the two started dating in 2017, she's kept mum about it. Little is known about how they dated or their favorite hangout spots. However, Taylor does share some details in her 2017 album, Reputation.
She sang about him on Lover, folklore, and evermore. Fans know that Joe helped Taylor co-wrote tracks like "Peace" and "Champagne Problems." The two love watching sad movies and listening to songs about heartache. Aside from that, Taylor has said little about their relationship.
There are only three times when she's mentioned Joe in published interviews.
Joe Alwyn inspired her to speak out about politics
Taylor Swift first spoke out about her political beliefs in the Netflix documentary, Miss Americana. In a new interview, she revealed that her British boyfriend inspired her to be vocal about American politics. He encouraged her decision in 2018. He also inspired her to write her new political song "Only the Young."
"As a country musician, I was always told it's better to stay out of politics," she told Vanity Fair on Wednesday, February 17. "The Trump presidency forced me to lean in and educate myself. I found myself talking about government and the presidency and policy with my boyfriend, who supported me in speaking out."
Soon thereafter, Taylor discussed politics with her family and friends. And that's how she found out where she stands in this divided country. It took her some time to speak out. Taylor was quiet for much of her Reputation album era. At the time, she only agreed to do e-mail interviews and published essays in magazines.
"I didn't want the defeat and hopelessness I felt for our country's future to get the best of me," Taylor Swift told V.F. of Only the Young, the political rallying cry that closed out last year's documentary. "I didn't want to weep. I wanted to have hope." https://t.co/0ruGsedHmn

— VANITY FAIR (@VanityFair) February 17, 2021
The "Willow" singer said that she's "proud to have moved past fear and self-doubt." In 2020, she endorsed President Joe Biden. Taylor is satisfied with her decision to "support leadership that moves us beyond this divisive, heartbreaking moment in time." In 2018, she broke her silence to endorse Senate candidate Phil Bredesen and Congressional candidate Jim Cooper in Tennesse.
Taylor Swift dishes on her private relationship
In an interview with Paul McCartney for Rolling Stone, Taylor Swift made a rare comment about Joe Alwyn. The two musicians discussed her folklore track "Peace." The singer-songwriter revealed how that song came about. She also shared the feeling she got in her current relationship.
"I know that you have done a really excellent job of this in your personal life: carving out a human life within a public life, and how scary that can be when you do fall in love within a public life, and how scary that can be when you do fall in love and you meet someone, especially if you met someone who has a very grounded, normal way of living," Taylor explained. "I, oftentimes, in my anxieties, can control how I am as a person and how normal I act and rationalize things, but I cannot control if there are 20 photographers outside in the bushes and what they do and if they follow our car and if they interrupt our lives."
The singer feels more control in her relationship. She can hide away with Joe and know there won't be a "fake weird headline" about them in the press the following day. She is more at "peace" with their lives together, hence the name of her song. Before Joe, she was in high-profile relationships with Tom Hiddleston and Calvin Harris.
Why she doesn't talk about their relationship
Taylor Swift has written her fair share of breakup songs and love ballads. She's even in the midst of re-recording her Fearless album. Last week, Taylor re-recorded her hit 2008 single "Love Story." But she rarely talks about Joe and that's for good reason.
"I've learned that if I do, people think it's up for discussion, and our relationship isn't up for discussion," she told  The Guardian in 2019. "If you and I were having a glass of wine right now, we'd be talking about it – but it's just that it goes out into the world. That's where the boundary is, and that's where my life has become manageable. I really want to keep it feeling manageable."
These days, Taylor would rather let her music speak for itself. And she swapped out her personal relationships for activism. She has used her social media accounts to address the current political situation. Even some of her previous tracks like "You Need to Calm Down" addressed issues like LGBTQ rights.
Do you want to learn more about Taylor Swift's boyfriend? Let us know in the comment section below. Come back to Country Music Alley for more news about your favorite Country stars.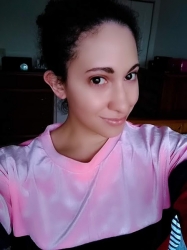 Latest posts by Chanel Adams
(see all)