Kelly Clarkson stunned fans with her cover of Lady Gaga's "Poker Face." On Friday, February 19, she performed the song during the "Kellyoke" segment of her hit daytime show. Kelly gave an energy-filled rendition of the popular track. "Poker Face" was featured on Gaga's second studio album, The Fame.
The international popstar released it as a single in 2008. In September 2008, the song became diamond-certified. "Poker Face" is also one of her biggest songs and iconic music videos to date. It also earned several music awards including a Grammy. Fans are still hoping that Kelly will release her own covers album after watching some of her impressive performances.
Kelly Clarkson puts her spin on "Poker Face"
During the "Kellyoke" segment, Kelly Clarkson enjoyed performing this song. She lit up when she sang the line, "I wanna hold 'em like they do in Texas, please." It's the catchy line from the 2008 pop hit. It sounded even better coming out of Kelly's mouth on Friday. The Texas native put her own rock twist on the dance song.
Kelly and her band Y'all relied on guitars and the insistent beat. Her voice roared as she sang the song's chorus. The stage even lit up in pink and green lights. Kelly even tried to match the slapping drums heard in the background. This comes after her covers of the Foo Fighters' "Time Like These," Jessie J's "Price Tag," No Doubt's "Just a Girl," and Toni Braxton's "You Mean the World to Me."
Check out Kelly's "Poker Face" cover in the video below.
Fans love this memorable cover
Over 119,000 fans loved the video. Some of them loved how Kelly Clarkson performed the song. It was a twist that they didn't expect. Here are just some of the comments:
"I DID NOT, I REPEAT, I DID NOT EXPECT A COVER OF THIS FROM KELLY."
"She reinvents every song she sings."
"Oh wow never thought i'd hear kelly's version of poker face. She's [fire]."
"This is a new take on the song."
"Oh my god. She made it her own, she can mash this up with Since You've Been Gone."
"I like how Kelly grabbed this industry and made it her own."
Kelly has been doing that with a lot of her covers lately. There is nothing that she can't sing. And that's why fans are holding out hope for a cover album. They also think that she could take songs from pop stars and give them some harmony.
Plus, Kelly has that voice. That's why she was the winner of Season 1 of American Idol. Some think she should sing Katy Perry's old catalog of music. What are your thoughts on Kelly's cover of "Poker Face"? Sound off below in the comments.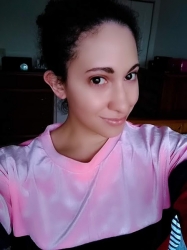 Latest posts by Chanel Adams
(see all)