Carrie Underwood is eagerly waiting for the return of Yellowstone. On Sunday, February 21, Kevin Costner posted a new photo on social media. In the caption, he wrote: "Who's ready to get back to the ranch?" The American Idol Season winner is one of them who's ready. Of course, all fans of the show want to get back to the Dutton ranch.
The photo features Costner wearing his signature John Dutton outfit as he looks out into the Montana wilderness. It's hard to get tired of the beautiful mountains and evergreen trees. But the photo also posed questions about Costner and John Dutton's future on the show. Some fans have a feeling that the show will kill him off.
Carrie Underwood answers Kevin Costner's question
Kevin Costner posted the photo on Twitter. He looks over the famous Yellowstone ranch while wearing his iconic cowboy hat. Carrie Underwood took notice of Costner's tweet. But she immediately raised her hand and said she's ready for the show to the return.
The "Hallelujah" singer talked about her love for the show before. Like most fans, Underwood was in shock over the Season 3 finale. She tweeted that she thinks Beth, Kayce, and John Dutton could end up dying on the show. What's even worse is that she will have to wait until June 2021 to see what happens next.
🙋‍♀️

— Carrie Underwood (@carrieunderwood) February 22, 2021
Well, crap, @Yellowstone . Y'all are gonna play us all like that?!

— Carrie Underwood (@carrieunderwood) August 24, 2020
It makes sense that the 37-year-old Oklahoma native loves the show. She even roped in her own cowboy to marry. Underwood married Canadian NHL player Mike Fisher. In a July 2020 TikTok video, she showed off her cowboy husband. She filmed the video in slow motion as the Yellowstone theme song played in the background. The couple enjoyed their vacation together in Wyoming.
"#Wyoming Pretty sure Mike thinks he's Rip #Yellowstone," Underwood captioned the video.
She wants to "bring some healing" to challenging times
For now, Carrie Underwood is focused on her new album. She's releasing her first-ever gospel album, which includes a collection of hymns. Earlier this month, the singer released the debut single "Soft and Tenderly." In a new video posted to social media on Tuesday, February 23, Underwood shared her decision to record My Savior. She wants to bring healing in these challenging times.
Underwood first performed "Soft and Tenderly" at the "In Memoriam" segment at the 2017 CMA Awards, which paid tribute to the country music community who passed away that year as well as the victims of the Route 91 Harvest Festival shooting in Las Vegas. The country star got choked up in her performance. She had to compose herself as it was one of her emotional performances. Underwood recalled that moment in her Instagram video.
"I felt like at the time, that song brought a lot of healing into the room," Underwood explained. "I wanted to include it on this project just to kind of having it in a more 'done' way. So we decided to include it on this and hopefully, it will continue to bring some healing to people who need it."
My Savior drops on March 26, 2021.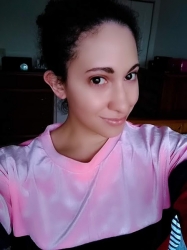 Latest posts by Chanel Adams
(see all)