Kelly Clarkson was overcome with emotion during her latest "Kellyoke" segment. The singer has been making headlines for her covers. Fans are holding their breaths for a cover album. However, Kelly revealed that she has written over 60 songs in quarantine. This comes amid her divorce from Brandon Blackstock.
She has found the songwriting process "therapeutic." But she admitted that most of the songs may not end up on the new album. Over sixty songs could easily satisfy 3 albums or more. But who wants their next consecutive albums to focus on their split? It sounds like writing about her heartbreak is something she wants to get out of her system.
In the meantime, Kelly is singing songs she can relate to.
Kelly Clarkson performs an emotional cover of Justin Bieber & Benny Blanco's "Lonely"
On Thursday, March 4, Kelly Clarkson took the stage. This time, she sang the Justin Bieber and Benny Blanco hit "Lonely" on her daytime talk show. As her band performed, Kelly stood behind her microphone and sang her rendition of the popular track. "Lonely" is the second single from Justin's sixth studio album, Justice.
Kelly's performance stopped hearts in the audience. Of course, her fans flocked to the YouTube video and commented on it. They feel that there isn't a song that she couldn't perform. Kelly has been consistent with delivering solid covers. Here is just some of the reaction:
"There's nothing this Queen can't nails [sic]. She does everything and nails them all."
"It kills me there aren't studio versions of all her Kellyoke covers on Spotify that I can stream endlessly while driving alone at night."
"Since 2003, this woman's voice has been my personal heaven."
"Wasn't prepared to cry this early in the morning."
"I must admit that I was not a Kelly Clarkson fan during her time on American Idol, but I have come to realize that her voice and talent are incredible."
Her "Kellyoke" segments have received praise from viewers. She has released strong covers from a wide variety of artists ranging from Aerosmith to Demi Lovato, Chris Stapleton and The Beach Boys, and Gwen Stefani and Blake Shelton. In the meantime, The Kelly Clarkson Show has seen ratings rise. It's even beat out The Ellen DeGeneres Show.
She also performed this hypnotic cover of "Can't Take My Eyes Off You"
Previously, Kelly Clarkson captivated viewers with another cover. During another "Kellyoke" segment on her show, the country superstar sang her version of "Can't Take My Eyes Off You" by Lauryn Hill. The R&B singer covered the 1967 Frankie Valli song on her 1998 album, The Miseducation of Lauryn Hill, which critics and fans call one of her best albums of all time.
This song was made for Kelly. Backed by her band and dressed in a striped jumper with a black shirt underneath, she let her vocals speak for themselves. Her voice continued to grow without distracting fans away from the song itself. Fans on YouTube were impressed with her performance.
"You are simply amazing and down-to-earth what a beautiful voice," one person commented.
"I can't take my ears off your singing and voice, Kelly!" another added. "You are one of the most talented and best female vocalists of all time."
Kelly sang one of Lauryn Hill's songs before. During her concert in 2019, she performed a medley that included "Ex-Factor." During the time, Kelly remarked that The Miseducation of Lauryn Hill "changed all of us in some way." She also called Lauryn "one of my favorite artists ever."
What are your thoughts on Kelly's latest covers? Sound off below in the comments.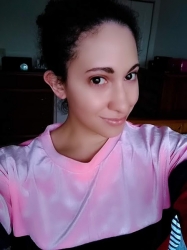 Latest posts by Chanel Adams
(see all)