Kelly Clarkson did it again. The American Idol alum and her band Y'All performed a cover of "These Arms of Mine" by Otis Redding. On Friday, March 5, Kelly captivated the audience as she sang the emotional hit. The 1964 song was featured on Redding's album Pain in My Heart.
Kelly expressed the pain of her heart as she crooned. She sang her heart out as she said, "these arms of mine are burning from wanting you." The singer-songwriter can do no wrong. Kelly continues to prove herself with each performance. Fans are hoping that she'll record these covers and release a special album.
Watch Kelly Clarkson sing "These Arms of Mine"
On Friday, Kelly Clarkson stepped out on stage. She stood behind a microphone in a green dress that featured black panthers. She paired the look with a black shirt and hoop earrings. The "Behind These Hazel Eyes" singer captured the audience with her raw vocals. Of course, her vocals soared throughout the song.
Fans buzzed about her cover on the YouTube video. One wrote: "Otis would be proud. Kelly's head voice is the purest thing to my ears." Another added: "Hearing this I'd love to hear her sing the rose by Bette Midler. She'd sound amazing." Some are getting major nostalgia from this performance, while others are offering up suggestions for future covers.
Daytime host covers "Use Somebody"
Earlier this week, Kelly Clarkson performed an uplifting version of "Use Somebody" by Kings of Leon. This time, she wore a floral print dress for her performance. She sounded the same as she did on her Breakaway album.
"Use Somebody" was the 2008 single off the band's album Only by the Night. Kings of Leon swept the 2010 Grammy Awards. They won Best Rock Performance, Best Rock Song, and Record of the Year. One fan commented that Kelly "SLAYEEED" her performance.
A second said that Kelly sang the song better than Kings of Leon did back ten years ago. One compared it to "vocal gymnastics" and gave her "10s across the board." One said they loved "Kelly's pitch, tone, vibrato, energy, and emotion" that she puts into her covers. Most fans agree that she has one of the best voices out of American Idol.
She stunned fans with this Ariana Grande cover
That's not all. Kelly Clarkson also made headlines for her cover of "Imagine" by Ariana Grande. This song is the opening track of the pop star's 2019 hit album, thank u, next. In a previous "Kellyoke" segment, Kelly opted for a rust-colored floral print dress. She let her vocals speak herself for this slow jam.
Kelly's voice was the perfect choice for this cover. She could even keep up with the fast-paced lyrics. This short performance will have you wanting more. However, some fans were hoping that Kelly would try to do Ariana's signature whistle tones.
What are your thoughts on Kelly's covers this week? Which one is your favorite? Sound off below in the comments.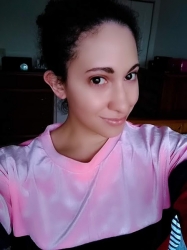 Latest posts by Chanel Adams
(see all)