Country Music Alley previously reported that Taylor Swift called out the Netflix series Ginny & Georgia. She mentioned the "deeply sexist joke" about her in a previous episode. On Monday, March 1, Swift ignited her fans with the tweet. Within twelve hours, it racked up over a half-million likes.
Most fans knew about the tasteless joke. They previously called Swift to criticize the series. But others are fired up. They are on social media to harass the cast and crew. While there is no denying that Swift has influence and most has led to lots of good in the world, but it can cause some bad as well.
She is one of the most successful artists of our time. But what comes with success and fame is a massive fan base who feel that Swift is their best friend. Swift's fans, who proudly call themselves Swifties, can be an intense group of people. However, some of them have crossed the line in support of the "Cardigan" singer and her callout of Ginny & Georgia proved this.
Swifties dox and harass Carrie Courogen
Ginny & Georgia are dealing with the wrath of Taylor Swift and her fans. The show's writer, Carrie Courogen spoke out against the toxic fanbase. She revealed that she became a victim of harassment and doxing from Swift's fans.
"Imagine if she'd speak critically about her threat-happy, dox-loving stans with the same amount of vigor she has for a stupid joke," Courogen responded to Swift's tweet.
We live in the dumbest version of the timeline where someone can't say the slightest critical thing about a celebrity without this mess, which they are directly responsible for and continue to enable. pic.twitter.com/J6TR8i7uaJ

— Carrie Courogen (@carriecourogen) March 1, 2021
She also blamed "cancel culture" for the extreme harassment. Within 24 hours of Swift's tweet, Courogen was doxxed and harassed by her fans. Some of them found her personal information, while others left threatening voicemails. Doxxing is a practice of publicly releasing private information for the purpose of harassment. Swifties have done this before when critics simply didn't like her surprise album, folklore.
Hey Ginny & Georgia, 2010 called and it wants its lazy, deeply sexist joke back. How about we stop degrading hard working women by defining this horse shit as FuNnY. Also, @netflix after Miss Americana this outfit doesn't look cute on you 💔 Happy Women's History Month I guess pic.twitter.com/2X0jEOXIWp

— Taylor Swift (@taylorswift13) March 1, 2021
Most of the time, doxxing is done with malicious intent. Fans took note of Swift's tweet and used it as a way to attack Courogen. Since then, she shared the harassment she received from those who support the "Willow" singer in recent days. Most of them sent death threats, while others resorted to slut-shaming.
There has to be some middle ground here where we can acknowledge that celebrities are real people with real feelings and also acknowledge that that doesn't negate their power or their ability to use their power irresponsibly. This harassment was bound to happen, why encourage it?

— Ashley Reese (@offbeatorbit) March 1, 2021
Some Twitter users want Taylor Swift canceled
Meanwhile, the hashtag #taylorswiftisoverparty trended on Twitter. Earlier this week, some Twitter users think that Taylor Swift should get canceled. However, it's unclear why they were pushing for this to happen. The last time this same hashtag trended, Kim Kardashian released the damning voice messages of Swift talking to Kanye West about his song "Famous."
Some think this trending topic had something to do with John Mayer. Swift's infamous ex-boyfriend decided to join TikTok. Some of her loudest and most dedicated fanbase stormed his account the moment he hopped on. Mayer's comment section was filled with comments about his relationship with the singer and her breakup song "Dear John."
In other tweets, Swift's alleged problematic behavior has come back to bite her. One user shared a photo of Swift dressed in a traditional Asian garment with white powder on her face. Some likened it to "cultural appropriation." Another user claimed that Swift was aware that music executive Scooter Braun purchased her masters.
me after I eat one piece of sushi #TaylorSwiftIsOverParty #culturalappropriation lol pic.twitter.com/KZzuKg5svW

— Bryan Benitez (@bbryanjairr) March 3, 2021
Of course, Swifties came to her defense. They wrote positive and supportive posts for their favorite singer. While Swift can't be held responsible for her own fanbase, critics think she should speak out for the toxic and hurtful measures that her supporters take to "defend" her. However, some would argue that Swift ignites the flame and encourages her followers to burn down social media.
yael was spitting #TaylorSwiftIsOverParty pic.twitter.com/SZxp68e5x3

— antarctica seaborn 𓆉 (@highdeviance) March 3, 2021
Those same critics would say that Swift's actions are calculated at best. Meanwhile, her fans are determined to ruin the lives of those who cross her path.
What are your thoughts on Swift's fanbase? Do you think repercussions should follow? Do you think Swift should speak out? Sound off below in the comments section.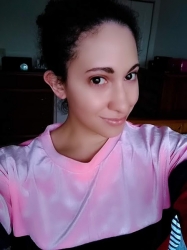 Latest posts by Chanel Adams
(see all)