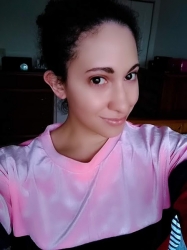 Latest posts by Chanel Adams
(see all)
Taylor Swift shared her "family photo" ahead of the 2021 Grammy Awards. But it's not what you think. The singer-songwriter snapped a selfie with her Folklore collaborators rather than her immediate family. This comes after she received six Grammy nominations.
But Swift could get one more. As fans know, the Recording Academy loves her. It's not like she hasn't won album of the year in the past for 1989 and Fearless. This year, Taylor is in the running to win album of the year for her 2020 surprise quarantine album, Folklore.
"Cardigan" singer shares "family photo" with Folklore collaborators
On Thursday, March 11, Taylor Swift shared a selfie with her Folklore family on her Instagram Stories. This comes amid the highly-anticipated 2021 Grammy Awards this Sunday. The 31-year-old posted a photo alongside Aaron Dessner, Jack Antonoff, Jonathan Low, and Laura Sisk. All of them worked with Swift on her Grammy-nominated album.
"folklorians family photo," Swift captioned the photo.
According to People, the "Willow" sing is quarantining with her Folklore collaborators. The crew is getting ready to celebrate Grammy's weekend together. Swift recently spoke out about reconnecting with the crew in a behind-the-scenes video that teased her upcoming performance at the event. While she shared very few details, she did reveal one big hint.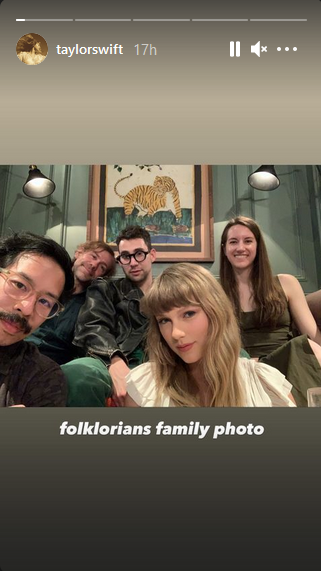 "One thing I can tell you about my Grammy performance that isn't highly confidential is that my performance includes my collaborators Aaron Dessner and Jack Antonoff," Swift said. "Which is really exciting, because this has been an adventure that the three of us have gone on since the very beginning of quarantine and lockdown."
She exclaimed how "awesome" it is to reunite with them again. The crew has quarantined together for the past week. Swift and her collaborators have been practicing and testing music. She admits that this process is "something that I will never, ever take for granted again."
Taylor Swift worked on the album during quarantined
Folklore was a surprise release in July 2020. Taylor Swift wrote and recorded the album during the early days of the COVID-19 pandemic. Before this latest reunion, Swift and her collaborators gathered together in upstate New York to shoot Folklore: The Long Pond Studio Sessions, which streams on Disney+. The intimate film concert gives the details behind the process of the album.
"Folklore was an album that was made completely in isolation, which means that Aaron Dessner, Jack Antonoff, and I never saw each other while we were collaborating and creating the album," Swift revealed on Good Morning America back in November 2020. "But we got together at Long Pond Studios and for the very first time got to create this music together, play through it, talk through it."
Swift is up for six Grammys this year – including Album of the Year and best pop vocal album for Folklore. She's also nominated for Best Pop Solo Performance for the lead single "Cardigan" and Song of the Year. In the meantime, her collaboration with Andrew Lloyd Webber on Cats' "Beautiful Ghosts" is also nominated for best song written for visual media.
The 2021 Grammy Awards air Sunday night on March 14 at 8 p.m. ET.