Taylor Swift teased another new song. This weekend is the 2021 Grammy Awards. The singer is up for six nominations. She is set to sweep the awards ceremony by storm. And Swift is still working hard at new music.
Last month, she dropped the re-recorded version of "Love Story." Also, Swift announced that Fearless (Taylor's Version) will drop on April 9. Now, she's working on the recordings of 1989. On Friday, March 12, the pop star released a teaser of "Wildest Dreams," which appeared on the 2014 album.
"Cardigan" singer debuts new song ahead of Grammy Awards
"Wildest Dreams" is the latest single after "Love Story." Taylor Swift dropped the teaser for the re-recorded song in the trailer for the new animated movie Spirit Untamed. Dreamwork's new film is about runaway trains and wild horses. This comes after Swift's "Love Story (Taylor's Version)" appeared in a Match.com ad with actor Ryan Reynolds.
"Wildest Dreams" was featured on Swift's 1989 album. What's also interesting is that Spirit Untamed features the voice of Jake Gyllenhaal, who is also the singer's ex-boyfriend. He lends his vocals to the character of Jim Prescott. But Swift's fans noticed that the singer is re-recording her next album.
In February, Swift announced that she finished re-recording her Fearless album, which came out in 2008. Now, she's onto her next efforts in the wake of Scooter Braun's acquisition of her masters. Swifties were excited to hear another new song from the singer. Some of them compared it to a religious experience.
me listening to the snippet of wildest dreams taylor's version pic.twitter.com/zHBYhimRfz

— A⁷ 🍊 (@magicintheair96) March 12, 2021
However, not everyone felt this way. Some thought it was weird to have a sensual song featured in an animated movie for children. Others also think it's a weird choice for an artist who's up for several Grammy nominations this weekend. It sounds like the singer is trying to stay on top of everyone's minds. Regardless, Swift is working hard to get her music out there on her own terms.
Taylor Swift releasing wildest dreams Taylor's version as the soundtrack of a kid's movie: pic.twitter.com/4iwa1kyYLG

— fearlessly, pia💛💛 (@Pialovestaylor_) March 12, 2021
How Taylor Swift is giving fans nostalgia vibes
Taylor Swift is in an ongoing fight with her old record label, Big Machine Records. There were miscommunications and disagreements over the rights of her earlier master recordings. Swift wanted to purchase her rights, but CEO Scott Borchetta counter-offered, and she declined. Ultimately, Swift left her label and signed on with Universal Music Group.
Her re-recorded version of Fearless will feature 26 tracks including six never-before-released tracks written by Swift when she was just a teenager. This album will give her fans a sense of nostalgia. Fearless was a coming-of-age album that had romantic songs about the naivete about being fearless while being in love. While it gives a sense of nostalgia, it also shows how much the singer has grown up.
For instance, Swift's new Fearless album cover shows her wearing Romeo's shirt. On the original album, she wore Juliet's dress. Her fans noticed the change and commented: "She's wearing Romeo's shirt. She no longer needs a knight in shining armor, she's her own knight in shining armor" and "She doesn't need Romeo to come to save her, she's her own Romeo."
SHE'S WEARING THE ROMEO'S SHIRT. SHE NO LONGER NEEDS A KNIGHT IN SHINING ARMOUR, SHE'S HER OWN KNIGHT IN SHINING ARMOUR pic.twitter.com/7UzttnnRwh

— anki⁷ (@ksjincore) February 11, 2021
Swift has also been a role model for her fans. She's known for never giving up and standing up for herself. Even if that means taking back her discography. What are your thoughts on Taylor's new song? Sound off below in the comments.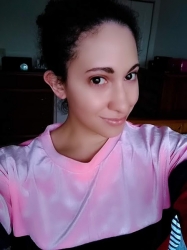 Latest posts by Chanel Adams
(see all)