Kelly Clarkson returned strong this week with her latest "Kellyoke" performances. Fans have been missing them lately. They look forward to seeing which song she's going to cover each week. Her latest performances will have you dancing in your seat.
The "Behind These Hazel Eyes" singer performed a cover of Chris Isaak's "Wicked Games" as well as Faith Hill's "Keep Walkin' On." Fans agree that the American Idol alum came back strong this week. She showed off her powerful voice on both covers. Her "Kellyoke" segments have become one of the most joyful parts of the daytime show.
AI alum sang a sultry rendition of "Wicked Game"
Kelly Clarkson crushed it once again. This time, the singer-songwriter performed in a black lace dress as purple lights flashed behind her. She performed why she's one of the best singers to come out of AI. On Tuesday, March 15, Kelly sizzled in her sultry performance. She stuck true to the original without putting a twist on this classic, sexy tune.
As usual, fans couldn't get enough. They're hoping that Kelly will release her own covers albums. Others think there's nothing that she can do wrong. Not only do they love her personality, but they love her vocals. Here are just some of the comments:
"I always thought this song was so haunting and sexy. And Kelly never disappoints…"
"This woman is so sickly gifted. I love kelly Clarkson."
"Absolutely stunning! She needs to put out a single like that!"
"Wickedly talent! Wow, I don't know how you could do it Kelly and that's the beauty of it."
"Wicked Game" is one of the steamiest songs from the early '90s. The Chris Isaak tune hit No. 6 on the Billboard Hot 100 chart in March 1991. While it was originally released in 1989, it didn't become a hit until two years later. What helped is the sexy black-and-white music video that starred supermodel Helena Christensen. The song was also featured in the 1990 film Wild at Heart.
Kelly Clarkson will have you walking with this Faith Hill cover
The singer is harkening back to her country roots once again. Kelly Clarkson started the week off right with this peppy tune. She kicked off Monday's broadcast of The Kelly Clarkson Show with Faith Hill and Shelby Lynne's 1995 hit song. The Voice coach put her vocals on display as she belted out the last titular line: "Keep walking on."
The track was featured on Faith Hill's sophomore album It Matters to Me in 1995. "Keep Walking On" peaked at No. 4 on Billboard's Top Country Albums chart. Fans immediately flocked to this performance on YouTube. They were missing Kelly and her backup band. Here are just some of the comments about this cover:
"Kelly and her band y'all killing it every time. Ain't nobody sounds or can sing like Kelly. And no other solo artist have bada** BGV singers and killer band."
"Y'all and the Ladies are together again. Now Kelly's got her whole crew back!"
"A week without Kellyoke and I feel like I've just been saved!"
"This was better than the whole Grammy's last night show! <3"
Kelly makes headlines for her covers. But not only is she a singer, but she was also an actress. Unfortunately, Kelly left acting behind because of the stress it caused her. She previously revealed that she would like to play a villain.
What are your thoughts on Kelly's latest covers? Sound off below in the comments.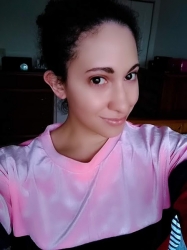 Latest posts by Chanel Adams
(see all)