Kelly Clarkson hasn't acted in years. Since she won the first season of American Idol, she starred in the film, From Justin to Kelly. But that role made her uncomfortable. She stopped acting after that movie.
Kelly was obligated to appear in the 2003 film due to her contract with Idol. She even tried to get out of that movie role at the time. Unfortunately, they wouldn't let her. To this day, Kelly is embarrassed by that acting role. But on a recent episode of her daytime talk show, she revealed what role she would love to have.
Daytime talk show host would love to be a villain
On Thursday, March 4, Kelly Clarkson revealed that she would love to play a villain. The Kelly Clarkson Show shared a clip along with the caption: "Anyone out there looking to cast a villain?"
"I'm not an actor but if I was going to be an actor I would rather play – instead of a Julia Roberts role – I want to be like Kathy Bates Misery," Kelly exclaimed as the audience laughed. "I want to be like, crazy, you know? It's like, 'Oh I could be the cute 'hahaha' one which is great. I love those movies. I want to be a psycho."
Fans would love to see Kelly play a villain. One wrote" Please let this be a thing! I would love to see that movie!!" A second user chimed: "OMG Kelly that is hilarious. I would rather play a Kathy Bates character too. Lol."
But some argued and said that Kelly is an actor and she should take note of her previous accomplishments. One commenter said: "Hey now!!!! I saw you on Reba a couple of weeks ago." Another added: "You ARE an actor Kelly. Give yourself more credit! You're damn good in every role you've done so far!"
Fans think she would make a great actress. She has the personality and "IT" factor. But she shies away from that part of her life. The singer had such a bad experience with From Justin to Kelly that she ended up in tears.
Why Kelly Clarkson quit acting
Kelly Clarkson wants to erase that movie from her mind. At the time, she hated acting. She just wanted to write her own music and sing from her heart. But her contract with American Idol required her to both record music and star in a studio film.
"I cried," Kelly told The Los Angeles Times in 2019. "I talked to many lawyers and could not get out of the movie."
She reluctantly moved forward with the project. Film critics tore it apart. Kelly admitted that she was "not a beach blanket-movie kind of girl." Instead, she wanted her single "Miss Independent" to come out before the movie. She claims the song "literally saved my career."
It took Kelly time to return to acting. Since she respects the art, she didn't want to commit herself to another starring role. Instead, she returned to UglyDolls, which was released in 2019. In the animated movie, Kelly voices the character named Moxy.
The movie is about dolls who look different from their counterparts. It's something that the singer can relate to.
"This role could not be more me," Kelly explained. "I generally get nervous acting, so I don't generally do it. I tend to stay in my comfort zone. But this was kind of awesome because I thought: I'm not going to have to act … this is basically my character in life."
It's safe to say that Kelly won't make a return to acting anytime soon. But fans would love to see her play a villain. What are your thoughts? Do you think Kelly should make a return to acting? Sound off below in the comments.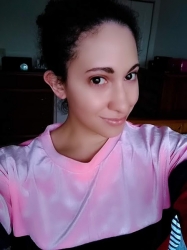 Latest posts by Chanel Adams
(see all)