Miranda Lambert had fans split on her 2021 Grammys look. The country singer showed up in a super casual look. The awards ceremony is known for its share of iconic and bizarre fashion moments. Fans always look forward to their favorites to go all out at the event.
But Miranda decided on a low-key look. She took a huge risk by showing up in a denim jacket and a black denim skirt. Fans were baffled over her look. The three-time nominee and Grammys performer appeared on the red carpet in a comfortable look.
The "Bluebird" singer wore a light wash denim jacket with a black star printed blouse, a black denim skirt, and cowgirl boots.
Fans react to country star's Grammys look
However, fans were confused. While most fans praised Miranda Lambert for her low-maintenance look, others were disappointed. They were hoping that she would step out in a hot dress. Twitter was mixed on Miranda's look. One user called her red-carpet style "bold," while another called her an "icon" for showing up in a denim jacket rather than a gown.
"you have to be bold asf to wear a jean jacket to the grammys miranda lambert has my respect for that," one fan wrote.
"Miranda Lambert: ICON ICON ICON IM IN LOVE. her showing up to the grammys in a jean jacket is a power move and i am here for it," a second user added.
Despite the praise, some fans on Twitter think her look was perfect for running weekend errands than a Grammys event. Here are just some of the comments:
"miranda lambert is beautiful but her outfit looks like she's just going shopping or something not to the grammys."
"Miranda lambert girl what are you wearing did you just come from a target run."
"Ehhh this can't be the red carpet? Miranda Lambert is wearing a jeans jacket lol."
Miranda Lambert went "sleek and sexy" in a plunging gown
But the songstress did make a return to the red carpet. She swapped out her casual look for a "sleek and sexy" gown that featured a plunging neckline. Miranda Lambert wore a silver sequin gown with a turquoise Tyler Ellis clutch, black pantyhose, and black platform Sophia Webster shoes. The "Little Red Wagon" singer also paired her look with Fred Leighton and Kwiat jewelry.
The 37-year-old told People that she was happy to return to this year's Grammy Awards and to be able to perform with her band again.
"My band and I haven't seen each other in a really long time," Miranda told the outlet. "Just us being together playing 'Bluebird,' there's a synergy, I guess it's gratitude more than anything."
She stepped out on the red carpet with her husband, Brendan McLoughlin. He opted for a black double-breasted tax with a white open-collar shirt. When Miranda described her look, she admitted that she's "not really a princess gal." That could also explain why she previously showed up in a denim jacket.
What were your thoughts on Miranda's red-carpet looks? What did you think of her performance? Sound off below in the comments section.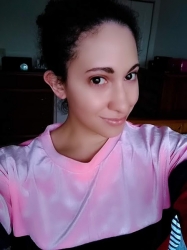 Latest posts by Chanel Adams
(see all)