Kelly Clarkson is giving back. The daytime host announced that she's helping families impacted by Hurricane Laura in Louisiana. On Tuesday, March 16, the "Behind These Hazel Eyes" singer made the announcement via an Instagram video. As part of her partnership with Wayfair, Kelly wants to help these families rebuild their lives.
The 38-year-old feels that it's her mission to give back to the community hit by the back-to-back hurricanes. She also revealed that she'll ensure that two residents will have a new place they'll call home. Kelly partnered with the furniture retailer to help families who were devastated by Hurricanes Laura and Delta in 2020.
The Voice judge pays it forward
Kelly Clarkson posted a lengthy statement on Instagram. She started off her message by saying that she "always believed that change starts at home." Both Kelly and Wayfair wanted to give back to families who are still struggling from the series of natural disasters. They will receive new appliances, furniture, and home accents. Kelly was touched by these families and their incredible stories.
"It's stories like these that make me proud to partner with the Wayfair brand," the "Kellyoke" singer continued in the post, "and I'm humbled I got the chance to speak these incredible, resilient people."
She concluded her message by asking her followers to check out the link to the Wayfair challenge. The Voice coach and Wayfair paid for all of the recovery costs, according to People. With the money combined, they renovated the exterior and interior for the Lake Charles residents. Many of the items came from the Kelly Clarkson Home collection.
Late last year, the songstress partnered with Wayfair, for whom she's a brand ambassador. Fans have been impressed with the look of Kelly's home. Of course, they wanted to know her decorating secrets. Now, she's helping those hurt by the storms and transforming their ravaged homes into something beautiful.
Kelly Clarkson touches fans
Over 49,000 people watched the touching video. Fans shared their praises for both Kelly Clarkson and Wayfair. They were touched by the emotional video. Here are just some of the comments:
"That's so sweet. I love you always Kelly."
"You're more than amazing."
"We love a humble and generous queen."
"This is why I love you so much, too."
Kelly has received a lot of praise lately. Fans love her bubbly personality on The Kelly Clarkson Show. The "Because of You" singer has also been making headlines for her "Kellyoke" segments. Kelly always ignites social media when she performs a cover song at the start of each show.
There is nothing that Kelly can do wrong. Not only is she making people smile, but she's also touching lives. Fans know she's the true queen. Check out the heartwarming video below.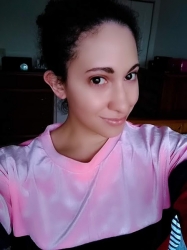 Latest posts by Chanel Adams
(see all)