Carrie Underwood flaunted her thigh gap in a new Instagram video. Most of the time, the country star makes headlines for her music. But the 38-year-old is also committed to her fitness. Earlier this month, Carrie celebrated the sixth anniversary of her Calia by Carrie's athletic brand.
At the time, she celebrated with a rare bikini photo. This time around, the "Soft and Tenderly" singer is showing off her incredible shape in a wide variety of athleisurewear. Ever since 2005, Carrie has been dedicated to her clothing brand, which ranks third after Nike and Under Armour at Dick's Sporting Goods.
There is more to come…
Since its debut, Calia by Carrie Underwood has a wide variety of apparel and accessories. It doesn't matter if you love to lift weights or hang out in downward dog. You'll find something that fits your workout. Calia also fits all kinds of lifestyles, even in a time when loungewear and sweat pants are super appropriate. On Wednesday, March 17, Carrie took to Instagram to share a new promo video for her brand.
In the clip, the country star showed a lot of leg. Carrie was featured as Calia announced a new line for spring 2021. The video shows a wide variety of settings, all showing the singer enjoying the outdoors. While she's filming in the same brick path and green setting, each one shows a different outfit. Carrie jumps up and down, shimmies her shoulders, and shows off her strong, muscular thighs.
Most of the outfits included tight, Spandex leggings. Carrie is all legs in the video. She also showed off her strong shoulders and arms. In the caption, the brand announced: "New spring looks are here! Which outfit is your favorite?" However, most fans were impressed with Carrie's physique. They wanted to know where she got her incredible body.
Carrie Underwood showed off her bikini body
In 2020, Carrie Underwood released her Find Your Path health and wellness book and accompanying Fit52 mobile app. The book and app work together to give readers diet and exercise tips. The sixth anniversary of Calia brought special meaning to the singer this year. It fell on International Women's Day and she celebrated with a bikini photo via her Instagram Stories.
"Whether on the road, on a boat, at a show, at the gym, playing outside, or traveling the world, @caliabycarrie's got you," she wrote in the caption. "It's been with me for 6 years and I cannot wait for you all to see what is next! #6thAnniversary #StayThePath."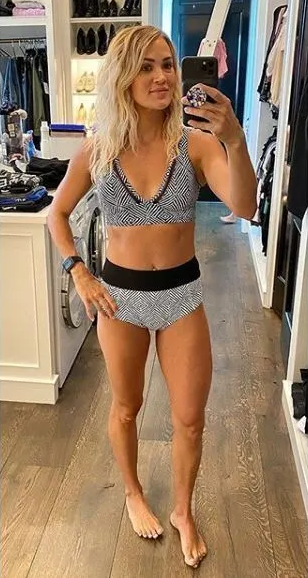 Carrie always motivates her fans and reminds them to "Stay the Path." Even a little injury can't get her down. The singer got back to her regular fitness time just a few weeks later. Ever since she launched the brand, she's been dedicated to her health and fitness.
According to Women's Health, she's a "wannabe vegan." The American Idol alum loves to consume green smoothies, protein bars, and tofu stir-fries. But there are times when she'll have the occasional glass of wine or red meat. She just eats everything in moderation.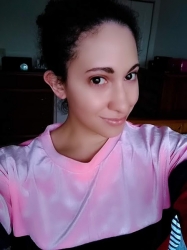 Latest posts by Chanel Adams
(see all)