Kelly Clarkson released a video of Gwen Stefani talking trash about Blake Shelton. However, that plan backfired on her. On Monday night's episode of The Voice, Gwen Stefani and Season 14 winner Brynn Cartelli returned to the NBC singing competition. But Blake wasn't excited to see his fiance because the No Doubt singer supported his competition.
Then, Kelly tried to manipulate old footage of Gwen on the show. In the video, she tried to win over contestant Jordan Matthew Young. The aspiring singer received three chair turns from Kelly, Blake, and Nick Jonas. Of course, Kelly's video sabotage didn't turn out the way that she hoped it would.
Kelly Clarkson's plan backfires on her
During the Monday, March 15 episode, Kelly Clarkson shared the footage of Gwen Stefani. She really wanted to win over Jordan Matthew Young. And she did whatever it took to get his attention. She didn't care if she had to throw Blake under the bus.
"I'm going to let someone else speak for me," Kelly explained. "This person should tell you who should go with and who you maybe shouldn't."
In the edited video, Gwen admitted, "Blake Shelton would be terrible as a coach. I love Kelly, she is perfect for you."
Unfortunately, Kelly's plan backfired on her. Jordan ended up choosing Blake as his coach. And the rest of the episode didn't go so well for the American Idol Season 1 winner. She didn't even finish second in the running.
"Kelly, I appreciated your input a lot, but it would be between Nick and Blake," Jordan said.
John Legend chimed in and said, "You're not supposed to tell who third place is."
Blake started gloating. He said it felt good "to beat Nick, Kelly, and Gwen. Clearly, Jordan saw right through Kelly's manipulation and lies and made the right choice."
Gwen made a virtual appearance on the show since leaving the series. She also scored her first win with contestant Carter Rubin. Kelly reached out to her longtime friend to recommend her as a coach to one of the contestants. Her poor attempts earned a prompt reaction from Nick and John, and Blake couldn't help but laugh.
Is Gwen Stefani on #TeamBlake or #TeamKelly?
Kelly Clarkson shared her support for her friend on Twitter. On Monday night, the "Because of You" singer shared a clip from the episode. Kelly tweeted, "Sooo @GwenStefani is totally #TeamKelly… and I brought the receipts to prove it! Do y'all think it's gonna help??" Fans took to Kelly's tweet to share their thoughts.
"Hilarious. Well played, Kelly," one fan wrote.
"Hilarious … @gwenstefani knows what she's talking about #teamkelly," a second user added.
Sooo @GwenStefani is totally #TeamKelly… and I brought the receipts to prove it! Do y'all think it's gonna help?? 🤔 #TheVoice @NBCTheVoice pic.twitter.com/0XgGKEIBve

— Kelly Clarkson (@kellyclarkson) March 15, 2021
Kelly and Gwen became good friends after being on the show together. Kelly even invited Gwen to her daytime talk show. She admitted she was jealous of the "Let Me Reintroduce Myself" singer because of her ability to write many songs while in quarantine. But Kelly should be happy since she managed to write 60 songs about her divorce.
It looks like Gwen is on #TeamKelly. She's staying true to her girlfriend. What are your thoughts? Sound off below in the comments.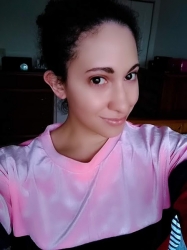 Latest posts by Chanel Adams
(see all)