Kelly Clarkson performed a "Walkaway" song during "Kellyoke." No, it's not her hit song "Walkaway" from her 2004 album, Breakaway. Instead, she performed Trisha Yearwood's "Walkaway Joe" during The Kelly Clarkson Show. The daytime host sang her version of the 1992 hit song during the popular segment.
Of course, her incredible voice was on display as she sang out the emotional lyrics. "Walkaway Joe" featured on Trisha's album, Hearts in Armor. Trisha recorded the song with Eagles' bandmate, Don Henley. The song went to the No. 2 spot on the Billboard country charts. Ever since it dropped in 1992, many artists have covered the ballad over the years.
Kelly Clarkson wears her heart on her sleeve
Kelly Clarkson and Trisha Yearwood are longtime friends. They even collaborated together on Kelly's Christmas album, Wrapped In Red. On the Thursday, March 18 broadcast, Kelly wore a mustard-colored dress with black ankle boots. The emotion shown in her voice as she sang the heartbreaking song.
This song was at the request of actor Matthew McConaughey, who played the titular Walkaway Joe in Trisha's music video in 1992. After the segment, Matthew revealed that his cameo was his "first time in front of the camera." Shortly thereafter, the actor had his breakout role in the 1993 classic comedy, Dazed and Confused.
"In early 1992, I'm going to college here at the University of Texas — this is before Dazed and Confused — and I was trying to get odd jobs in front of the camera when I could. And I got cast in that music video to play Joe," he explained. "Things are going well. And then where we end up at the last stop, she wakes up and Joe, myself, is nowhere to be seen, therefore, aka the title 'Walkaway Joe.'"
Watch Kelly's cover of "Walkaway Joe" and Matthew's explanation for his song request.
The singer has covered many country artists
Fans took to YouTube to share their thoughts. Most of them praised Kelly Clarkson for singing the emotional song. Others wondered if there wasn't a song that she couldn't sing. Here are just some of the comments:
"Just jammed out to this yesterday. Kelly's voice is beautiful for any country song."
"Your Voice [sic] brings me to tears every single time and don't worry they're good happy tears."
"Is there a song this goddess can't sing? Coz she just keeps slaying it all!"
"Kelly 'voice of an angel' Brianne Clarkson."
"Kelly is a country girl at heart."
"Love that Kelly is recognizing some of the great songs from country musics [sic] past! Trisha Yearwood will be proud."
Kelly has covered many country artists on the show, including Billy Currington's "Let Me Down Easy," Faith Hill's "Keep On Walkin'" Pam Tillis's "Maybe It Was Memphis," and Wynona's "No One Else On Earth." Her previous "Kellyoke" segments featured covers of Blake Shelton, Carrie Underwood, Lady A, Shania Twain, Travis Tritt, among others.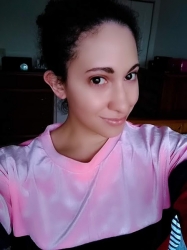 Latest posts by Chanel Adams
(see all)